Adelle Sabelle
Age:

22
Height:

176
Body:

90-61-89 (cup B)
Info:

Bisexual, never tried sperm before
Cum fact:

The impression I had was great I enjoyed it I had no problem - actualy from that time I like sperm :) Next time I want to shoot with more guys - more sperm!
Total swallowed:

109
My name is Adelle Sabelle. My job is an erotic masseuse and porn actress. My hobbies are eating good food, shopping for lingerie. I studied at a school hairdresser. I like music - pop, trap style.
Adelle Sabelle #2 - Bukkake - Second Camera
Adelle barely holds this tough bukkake experience for her but she shows an extreme will power and swallows almost 60 cumshots with a smile on her face! Her emotional reactions may not be that vivid but when you see her gulping cum, it won't leave you indifferent for sure!
Adelle Sabelle #2 - Bukkake - First Camera
Adelle's first loads come in with some emotions as she doesn't expect her organism to be rejecting cum at once but she continues. She uses a cum bowl to save the residual cum and starts sipping from it right at the beginning. This way she swallows her first 10 loads and feels ready for more..
Adelle Sabelle #2 - Bukkake
Actually this is the real first cum encounter for Adelle Sabelle. She is a totally naive newbie in terms of cum swallowing for the moment :) She's a bit nervous, so after just a few minutes of blowjobs, Adelle opens up her mouth and prepares herself for the first jizz loads..
Adelle Sabelle #1 - Bukkake - Behind The Scenes
We can see how Adelle becomes even more beautiful during the makeup. She loves her body and poses with pleasure, seducing the guys around. They can't hold themselves and when Adelle gets on her knees, they drop a couple loads to her eagerly opened mouth..
Adelle Sabelle #1 - Interview before Bukkake
Adelle Sabelle speaks some sexy Czech so she was asked a few questions using her mother tongue. She tried to swallow sperm a few times in her past but never had a good luck. She is nervous about her first bukkake but gladly tries her very first cumshot for a few years and gulps it with ease!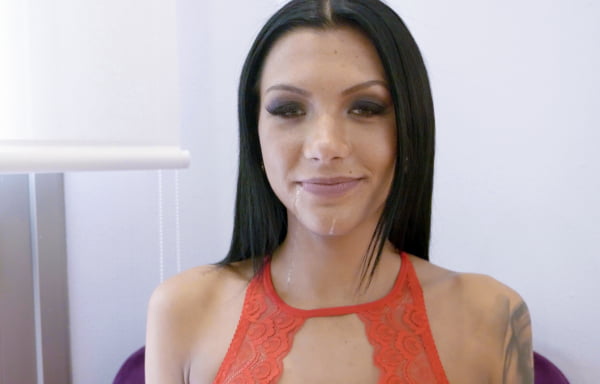 Adelle Sabelle #1 - Bukkake - Second Camera
The guys can't stop cumming and just in several minutes Adelle's beautiful face gets covered with the thickest cum streams prepared, which eventually land in her eyes, on her forehead, cheeks and all over her face. Adelle looks beautiful being cum-glazed! Will she ever want to return? You never know :)
Adelle Sabelle #1 - Bukkake - First Camera
She feels energetic and gets aroused in anticipation about her first bukkake and opens her mouth wide to accept the first loads. She even tries to smile when obediently waiting for the cumshots and gulps without any hesitation. Adelle swallows several big mouthfuls and feels well!
Adelle Sabelle #1 - Bukkake
Adelle Sabelle, a skinny Czech brunette, has just started her porn career a few months ago - and she hasn't tried much sperm before, so she's an ideal candidate! :) Without excessive words, she just starts sucking dicks that pop around her and it looks like she knows how to do it well!