Cherry Kiss #1 - Gloryhole
Gorgeous and unique Serbian model Cherry Kiss is back again and today she has a great mood for cock-sucking in a gloryhole box! She bravely starts blowjobs and gets horny by herself, undressing till lingerie. Guys can't stand this for too long and Cherry starts catching their loads from both sides..
Cherry Kiss #1 - Gloryhole
Since Cherry is special, the guys were specially selected too, who can provide a mega load only. Each load is felt like a few normal ones and we can see her mouth full of cum after each cumshot! Cherry masterfully plays a swallow game, reaching 15 mega loads in total, gulping everything with pleasure!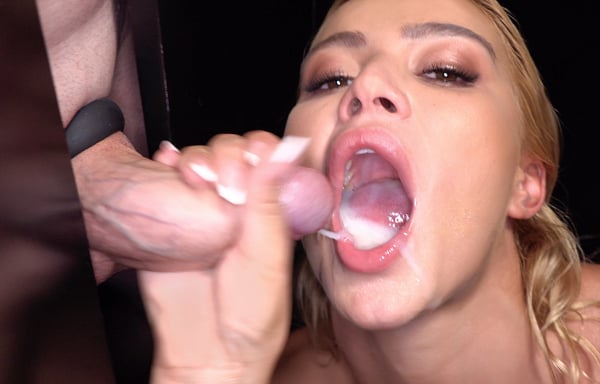 Cherry Kiss #1 - Gloryhole - Behind The Scenes
A very interesting voyeur scene where Cherry Kiss makes love with one of the bukkakeros who was waiting for her - this time it's not only a blowjob, but a real sex and it looks like Cherry really feels horny and wants the guy badly. Intimate moments, bloopers and even singing is added to this BTS, so join!
Ashley Ocean #1 - Bukkake - First Camera
Ashley Ocean, a skinny brunette with a nice ass, comes for her portion of cum. She's a bit nervous but bravely throws herself into the blowjob action and thrusts the dicks so hard that almost gags herself. When guys start to shoot the cum into her mouth, we can see that's she's not much used to it :)
Ashley Ocean #1 - Bukkake - Second Camera
Nevertheless, she continues and swallows five series of 9-14 cumshots in a row and feels quite enough after 53 loads. But guys do not stop and flood her beautiful face with thicker sperm that was saved for this moment. With some efforts, she gulps the rest from the bowl and bring the total count to 70 loads.
Ashley Ocean #1 - Behind The Scenes
This is one of those BTS footages where a model uncovers herself in real life, showing her behavior and attitude to the happening around her. You can peek her not only changing clothes or taking a shower, but watch a surprise cumshot during a photo session from a horny guy that was looking loitering around :)
Vinna Reed #1 - Blowbang - Second Camera
Have you already heard of Vinna Reed? She's from Czechia, 29, slim fit and loves to suck. That's what she came for to PremiumBukkake - and we give it to her - a giant blowbang with 42 guys! Vinna pleases everyone with her soft plumpy lips and gets horny while the guys touch her small tits with perky nipples..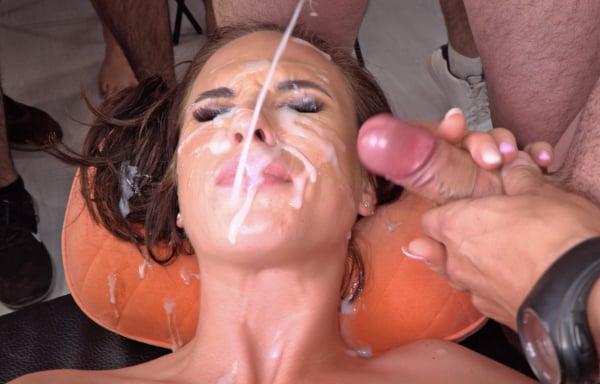 Vinna Reed #1 - Blowbang - First Camera
Vinna helps herself to direct the sperm from her face to the mouth and swallows in small gulps of around 7-8 loads. Her eyes are fully filled with cum, her face glitters and she feels a weird pleasure, masturbating being fully covered with sperm eventually. No doubt, Vinna will remember this blowbang :)
Vinna Reed #1 - Blowbang - Behind The Scenes
In this Behind The Scenes you will see all the things you like about BTS - bloopers and cut scenes, jokes and pulling faces, and when Vinna Reed finishes her blowbang, she dresses up and gets right on the street with the sperm on her face! What a brave girl!
Cherry Kiss #1 - Bukkake
A stunning Serbian model Cherry Kiss loves to drink sperm actually but she's never tried bukkake yet and wants to expand her limits today. She's a real pro in sucking cocks and does it beauuutifully. Guys can't wait to shoot their loads and when Cherry undresses, the real hot and horny action starts..
Cherry Kiss #1 - Bukkake - First Camera
Jimena Lago, a slender Spanish pornstar, helps Cherry to direct all the sperm right into her beautiful mouth. She looks determined and swallows mouthfuls of 7, 11 and 12 loads and continues in the same pace, commenting on each gulp and new sperm taste. By around 50th load her mouth is purely overflown..
Cherry Kiss #1 - Bukkake - Second Camera
The guys go mad and shoot the last saved thickest loads across all her face and right into her wide open eyes, reaching 70 loads she swallowed in total.. And after all she says: "Love u all and l can't wait u to see me being a trash of sperm for so many guys what is definitely turning me". Isn't she sweet?
Sherry Vine #4 - Gloryhole
Elegant Russian lady, Sherry Vine simply loves doing blowjobs in a gloryhole box. She's already become a pro in this subject and today she's going to confirm her skills. Sherry masterfully manages to caress around 20 dicks during a blowjob warmup and prepare the guys to shoot their sperm..
Sherry Vine #4 - Gloryhole
She undresses and stays fully naked, showing us her body in this tight gloryhole box and getting aroused by the hard dicks popping in.. Right from the first cumshot Sherry feels the cum taste with all her finest fibers of the soul. She touches herself between the loads and we see her getting hornier and hornier!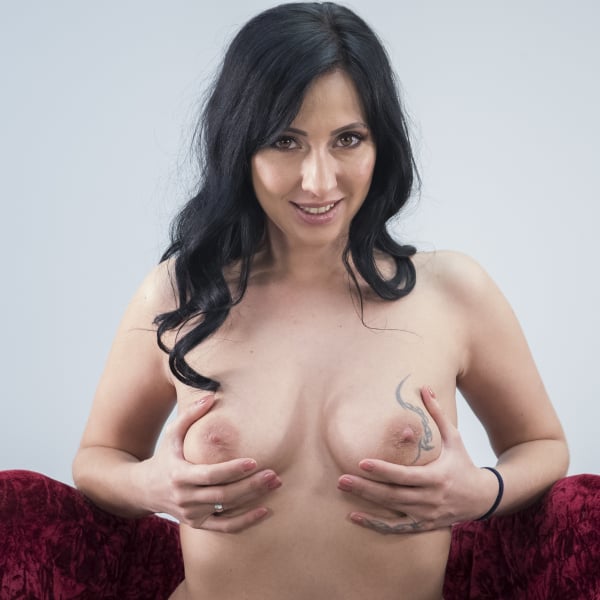 Sherry Vine #4 - Gloryhole
Since guys were prepared, the cumshots are thick and huge, so Sherry has to bring all her efforts to swallow the incoming sperm in its full volume. In this aroused subspace state of mind, Sherry Vine collects and swallows 35 enormously huge loads and delivers the emotions we've been waiting from her!