Scarlett Lapiedra #4 - Blowbang
That sultry petite brunette is back - Scarlett Lapiedra, a domme wannabe with a tight ass, slutty eyes and a seductive smile, wants to have her face covered in cum of many guys simultaneously. After a short self-stimulation she feels so horny that when the guys appear around, she throws herself on their dicks!
Scarlett Lapiedra #4 - Blowbang
When cum goes down, she moans from pleasure. The jizz jets are so strong they don't achieve her mouth sometimes and land on her face, making it messy and beautiful. Scarlett caresses herself and tries to cum too. The guys flood her face with thick cum and she swallows everything that goes to her mouth while cumming herself!
Scarlett Lapiedra #4 - Blowbang
She barely gags herself when trying to suck each of the dicks and literally craves for their jizz. The guys surround her and push their dicks to her face. She gets even face-fucked in-between. When the jizz spurts come out, she's more than willing to accept them. Scarlett lays down and opens her mouth.
Queen #2 - Interview before Bukkake
That Queen is amazing. She sits in a cafe, fully clothed and charmingly answers the questions with her French accent, theorizing about sperm tastes and sex preferences. She is eager to try and drink the full bottle of sperm she's given and does that with a smile! Looks like she indeed loves cum!
Queen #2 - Bukkake - Behind The Scenes
Queen looks like she doesn't need a makeup at all. She's beautiful by her nature and, probably, she might not even know how cool she is. However, when she poses for a photo session and shows her great body, a couple of guys approach her to drop their loads and she easily swallows each of them, looking at the guys..
Queen #2 - Bukkake - Behind The Scenes
She looks wonderful with cum on her face and when she's finished her bukkake, she sits down and explains how good she feels. After the bukkake she gets some help from Marianna and finally accepts her beauty :) Being clean after the shower, she eagerly accepts and gulps three big cumshots in a row! What a Queen!
Queen #2 - Bukkake
The beautiful French amateur model Queen is back on stage for her first in the life bukkake. She is set with a good mood and feels brave about swallowing a lot of cum today. Queen thrusts fat dicks into her mouth and gets surrounded by the guys quite quickly, finding herself among an intense blowbang action.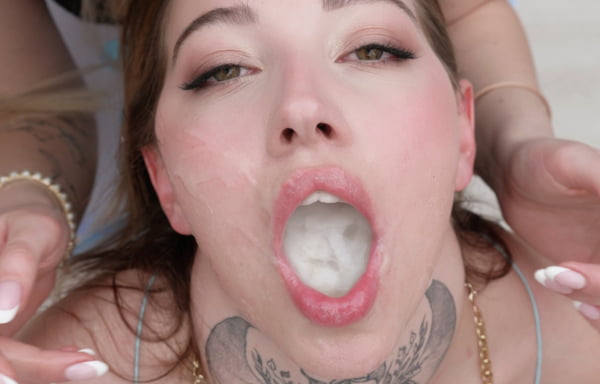 Queen #2 - Bukkake - First Camera
She kneels down and gets ready for accepting cum. Queen looks relaxed and welcoming the first spurts landing to her mouth. The first gulps go easy and she just smiles. With further jizz being landed to her mouth, Queen still shows no signs of dislike and it looks like she's just and obedient cum-swallower.
Queen #2 - Bukkake - Second Camera
Having swallowed around 40 loads, she feels hot and removes her underwear and by that moment her cum-scooper has to help directing more intense cumshots to her mouth. Queen becomes feeling enough but still bravely continues. She smiles and the guys unload their jizz onto her face, and Queen drinks all the cum afterwards.
Anita Blanche #2 - Interview before Gloryhole
Anita Blanche prepares for her first gloryhole and dives into reminiscence of how she always swallowed cum when she was a teen. Today she doesn't mind to start another chapter in her life of swallowing more than 10 loads in a row and tries a small portion of jizz from a bottle. She gulps it without any hesitation.
Anita Blanche #2 - Gloryhole - Behind The Scenes
Being a true diva, Anita Blanche poses for a photo session as an experienced model, showing her body from the best angles, so a random guy around has no chances than quickly approach her while she sits on her knees and unload the loads that have been saved for quite a while. Anita holds the cum and then swallows on command.
Anita Blanche #2 - Gloryhole - Behind The Scenes
She continues posing and gets nude and then another guy comes to her being aroused by her body. She accepts his loads with a smile and seductively licks her lips afterwards.. Having finished the gloryhole, she shares her impressions and it seems she loved it! She can't miss a goodbye load though anyway! :)
Anita Blanche #2 - Gloryhole
Anita Blanche is back for her first gloryhole and she does know what to expect! Dressed in a red leather harness, she feels kinky and horny, seductively posing in the gloryhole box. When the dicks pop out of the holes, she eagerly rushes at them and starts sucking. She does it perfectly and the guys don't make them wait.
Anita Blanche #2 - Gloryhole
She swallows the first loads with a smile. The jizz jets are so strong they land on her face and she squints from the spurts. Her face gets messy quite quickly. Anita moans from pleasure when receiving the cum and tries to collect a few loads to gulp more. Sometimes she looks to the camera as if she seeks for approval.
Anita Blanche #2 - Gloryhole
It looks like so many cumshots in a row make her feel even more horny and she barely has the time to process each of them. She helps herself to direct all jizz to the mouth and licks her fingers. She takes off her panties and continues with a bare ass. She may need to practice more but her first gloryhole is fine!