Ohana Petite #8 - Bukkake
Our beautiful cum princess Ohana Petite can't stop her cum swallowing venture and get enough with 21 loads she swallowed just a day before, so she's up to stretch her limits today and overcome herself as if she tries bukkake for the first time. She instantly throws herself to the incoming dicks and gets quickly surrounded by them.
Ohana Petite #8 - Bukkake - First Camera
The guys approach her from both sides, pushing their cocks to her mouth as Ohana sucks delightfully. When the first cumshots land to her mouth, she wrinkles but holds the cum inside. Her mouth gets filled up to the brim quite fast as the loads are huge. She swallows with no hesitation today.
Ohana Petite #8 - Bukkake - Second Camera
Ohana smiles and collects big mouthfuls, just closing her eyes for a second when the cum volume gets too big. She helps herself to direct all cum to her mouth and gulps on command. With all her face messed with cum, she takes her jizz bowl and drinks all the residuals, for a total of 55 loads she drank today!
Ohana Petite #7 - Interview before Bukkake
Ohana Petite has a great joyful mood today. She's really happy to return and see the old friends and maybe not if to set a new record, but to add more jizz loads to her swallow counter :) She playfully takes a small bottle of cum and effortlessly drinks it fully with a charming smile. She does want it started now..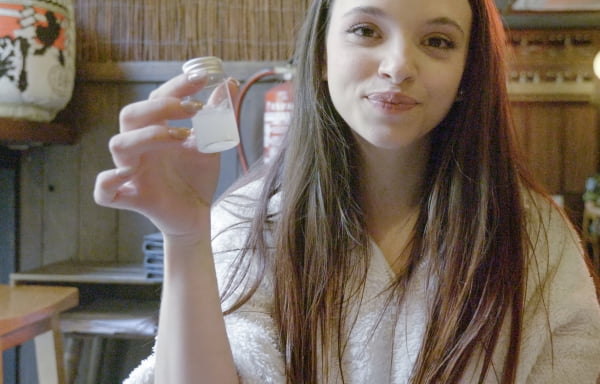 Ohana Petite #7 - Bukkake - Behind The Scenes
That's one of the rarest moment when we can see a girl coming in and getting a welcome load right on entering the studio and Ohana Petite is that girl! She takes it like a champ and goes preparing for the event. After the makeup she looks like a sexy kitten and goes to the stage in a short skirt, seducing the guys around..
Ohana Petite #7 - Bukkake - Behind The Scenes
After the bukkake she manages to answer a few questions, basically confirming that she still loves cum and then goes showering. She plays with her body and water streams in the shower and even reaches an orgasm there which looks really beautiful! What a happy ending for Ohana this time :)
Ohana Petite #7 - Bukkake
We are yet to know why Ohana Petite has decided to return back for more jizz swallowing, but here she is, even more beautiful and petite than earlier, being ready for the incoming dicks right at once. She instantly throws herself upon the guys' dicks and starts passionately sucking them. The guys certainly like that!
Ohana Petite #7 - Bukkake - First Camera
She kneels down and looks obediently to the camera, looking as a clean naive creature that has never tried jizz before but we all know her nature ;) Ohana keeps her mouth open and holds the cumshots in it, as soon as it's getting filled with really huge loads today. Her face becomes messy quite fast..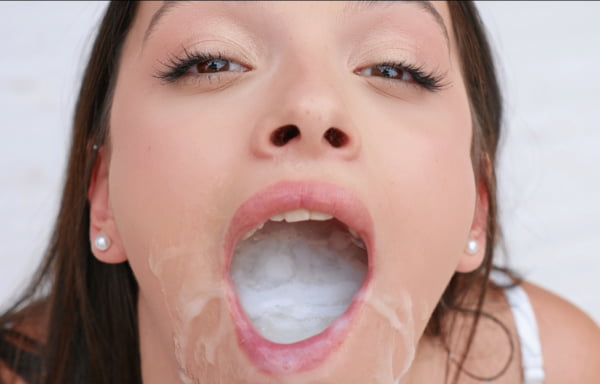 Ohana Petite #7 - Bukkake - Second Camera
Amazing, but even with such a not inflated number of guys, Ohana barely holds her mouth full, putting her will at hand and gulping with efforts. The guys compete with each other and unload their jizz loads from both sides and Ohana looks to be overwhelmed quite quickly, although not loosing a single drop and swallowing all!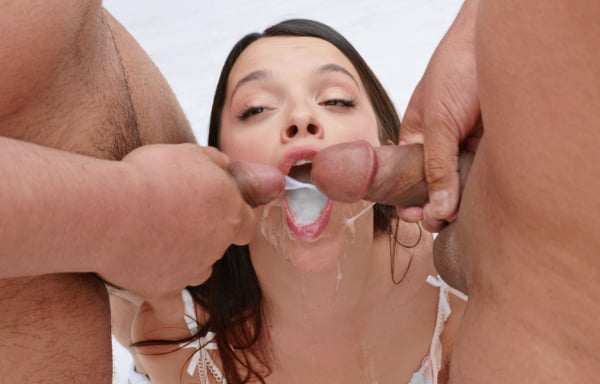 Nathalie Kitten #2 - Interview before Bukkake
Today Nathalie Kitten is dressed like a lady and tries to behave herself accordingly. She politely answers all questions about cum and her impressions about the first bukkake, sex preferences and emotions about cum and then casually drinks a small bottle of cum without any wink. ;) She just smiles and gets ready!
Nathalie Kitten #2 - Bukkake - Behind The Scenes
Nathalie Kitten is just a beginner pornstar but she definitely knows how to handle herself. She looks totally calm during her makeup and when she enters the stage - her confidence steps ahead of her. The guys around can't stay indifferent to that and approach her - three at once, though cumming one by one.
Nathalie Kitten #2 - Bukkake - Behind The Scenes
She just gulps with no hesitation and continues.. After the bukkake she admits she's happy about that and doesn't mind even more jizz! She's truly insatiable! Being clean after the shower, she already knows about a few goodbye cumshots and instantly sucks the jizz out of the guys waiting for her. Should she return?
Nathalie Kitten #2 - Bukkake
Last time Nathalie Kitten did a very good job of keeping her mouth open and holding mouthfuls that were filled over the brim. Is she going to repeat her first success today? She quickly kneels down and intensively sucks the dicks around her. Looks like she tries to handle all of them at once!
Nathalie Kitten #2 - Bukkake - First Camera
Surrounded by the dicks, Nathalie receives her first cumshots being prepared - she holds her mouth open and gulps only after reaching 15 wholesome loads! She's got a scooper today, so she gets even more jizz, bubbling in her mouth from the power of cum spurts. Nathalie swallows three huge mouthfuls and doesn't get tired.
Nathalie Kitten #2 - Bukkake - Second Camera
So even a huge mouthful of 21 loads can be gulped by her. She doesn't stop but the guys shift their aim to her face, flooding it with sticky cum and then filling her mouth again. Nathalie eventually drinks the cum bowl with residuals and basically gets all types of cum-delivering treatment PB can offer at a time :)