Megan Venturi #1 - Bukkake
Today we have skinny Slavic girl Megan Venturi who has not tried bukkake before. She's well trained for sucking dicks though and she instantly throws herself into the action. Megan gets naked and prepares for the cumshots. The first loads make her wonder - she didn't expect such intensity!
Megan Venturi #1 - Bukkake - First Camera
The sperm looks to magically transform the girls and when Megan opens her mouth, standing on her knees and obediently accepting thick jizz spurts - she looks even more sexy. She tries to be serious but her lips sometimes are shaking a bit - whether she wants to impulsively smile or gulp. She does that on command..
Megan Venturi #1 - Bukkake - Second Camera
The first bukkake is not that easy for Megan but she puts her will and bravely looks into the camera with her mouth being constantly filled with more and more cumshots. When she counts over 40, she barely can handle that and the guys switch to her face. All messed in cum, Megan Venturi gulps her proud 48 loads.
Min Galilea #2 - Interview before Bukkake
Min Galilea keeps an eye on her stylish look and doesn't mind changing even her hair color if her new jacket doesn't match it :) Besides that, she's the same joyful and energetic girl that doesn't mind gulping a load or a hundred, well, with a special warmup, of course. She gulps twice and feels ready!
Min Galilea #2 - Bukkake - Behind The Scenes
Some girls have so vivid mimic they can show the thinnest nuances of their emotions and Min Galilea is one of such girls. She plays with her face like a true actress and smiles trickily. When she poses for a photo session, she does everything to attract the guys attention and gets her couple cumshots! :)
Min Galilea #2 - Bukkake - Behind The Scenes
She gulps with a smile and continues posing, getting undressed and showing her beautiful tits for the camera. With cum on her face after the bukkake, she admits she likes what's just happened but it's just too intense. She goes to the shower and meditates there under the water streams. Well done, Ms Galilea!
Min Galilea #2 - Bukkake
This is a really special update - Marina Gold is going to teach a random fluffer how to do a bukkake! By an amazing chance that girl in a short skirt is Min Galilea! She instantly gets involved into the process and starts sucking the guys dicks. They all are ready to throw their cumshots out..
Min Galilea #2 - Bukkake - First Camera
First loads come unexpectedly but Min is ready to accept them on her knees and Marina helps her to direct the cum into her mouth. Min swallows her first pack and wrinkles as the taste is intense and the loads are huge. Her happy anticipating smile is getting changed to a bit more mixed emotions on her face..
Min Galilea #2 - Bukkake - Second Camera
Having swallowed 64 loads, Min gets almost enough but still can go on. She puts her face under the thick cum streams and accepts a couple dozen loads more when Marina steps in and gets a massive facial flood too! Both girls lick sperm from the face of each other and Min eventually gulps the rest of her hundred!
Andrea #1 - Gangbang
Our sporty supermodel wannabe is back for something new. Andrea was impressed with lots of guys on her bukkake so today she's going to be fucked by just a pack of them. She feels a bit nervous, so with the help of Marina Gold she gets hornier and notices the incoming cocks around. She's quickly sucked in..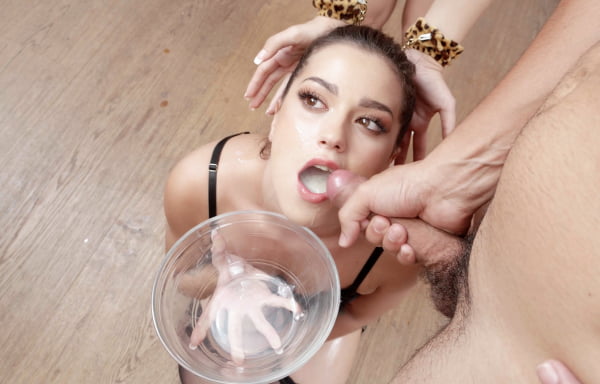 Andrea #1 - Gangbang
Andrea's being pounded from behind and she's sucking a cock in the same time. She tries a reverse cowboy too and while getting her clit stimulated, she takes her first loads and holdes them in her mouth. The guys continue fucking her while she lays down on a couch. Some of them unload their jizz into her mouth.
Andrea #1 - Gangbang
Andrea sits down and finally swallows the cum she's being holding for all that time. She obediently holds her cum bowl and collects everything from her cheeks. Each gulp is being given with an effort by her. Despite that, she accepts and swallows 34 wholesome loads, not loosing any single drop. Nice!
Maria Teen #5 - Interview before Bukkake
Well, Maria Teen is not actually a real teen anymore, so she tells us a story of her name change which reflects her inner personality. She proves that instantly by swallowing three huge jizz loads in a row and answering a few more questions with cum in her mouth. Being pleased, she swallows everything..
Maria Teen #5 - Bukkake - Behind The Scenes
Maria is beautiful. She knows it and seems to love herself. With a charming smile while being applied her makeup, she gulps a random load and shows it on camera. Maria shows off her body seductively during the photosession and accepts two more sudden loads gladly..
Maria Teen #5 - Bukkake - Behind The Scenes
Right after bukkake Maria's being asked a few questions but each answer gets interrupted with an unexpected cumshot and she accepts them with no hesitation. With cum on her face, she gets a gentle kiss from the scooper girl. Eventually Maria goes to the shower and exposes her body under the water streams..