Alisa Horakova #1 - Interview before Bukkake
So, what would you like to know about Alisa? She's been for just two months in porn and today she comes to us for a bukkake - is it because she's an insatiable nymphomaniac or she just wants even more cum in her life? Whatever the reasons, it's surely not going to be her last bukkake. Oh yes, she gulps three loads in a jiffy!
Alisa Horakova #1 - Bukkake - Behind The Scenes
Alisa wants to look sexy and natural, so she carefully chooses the style for her appearance and her efforts succeed :) Dressed in a blue cocktail dress and high heels, she seduces almost everyone on the stage, so a sudden cumshot from a random guy becomes apparent. She swallows his jizz without a question..
Alisa Horakova #1 - Bukkake - Behind The Scenes
Alisa has a wonderful body and despite she claims to be a shy girl, you see she is definitely not. She looks like a professional seducer despite her sweet age. After the bukkake she admits she's had a lot of fun and really wants to beat an absolute gulp record of PB one day. Should we allow her to do that?
Alisa Horakova #1 - Bukkake
Alisa Horakova comes to us from Belarus and from the first glance it seems she's a true naive amateur but we'd caution you against jumping to such fast conclusions. She has got some experience and the first guys who allow their dicks to be sucked, truly confirm by unloading their loads quite quickly!
Alisa Horakova #1 - Bukkake - First Camera
Alisa just smiles and tries to keep her mouth open wide for the incoming loads. She accepts them without hesitation but even the first pack creates vivid emotions on her face! The guys make her face dirty as there's no cum scooper and Alisa doesn't mind having all the sticky cum on her face while holding a giant mouthful..
Alisa Horakova #1 - Bukkake - Second Camera
Her first gulp happens with over 25 loads in her mouth! She hasn't ever swallowed so much cum as of today and she becomes a true hero for holding so big mouthfuls without any issues! With cum almost dripping over the brim of her mouth, she takes two more gulps and smiles wide. What a nice bukkake debut!
Miss Olivia #2 - Interview before Bukkake
Miss Olivia looks so naive when she talks about sperm and its taste but she definitely doesn't mind of drinking a glass of jizz with a charming smile. She clearly enjoys cum and claim it's reminding her a taste of milk with water. But certainly she prefers a cumshot directly from a dick and awaits her second bukkake..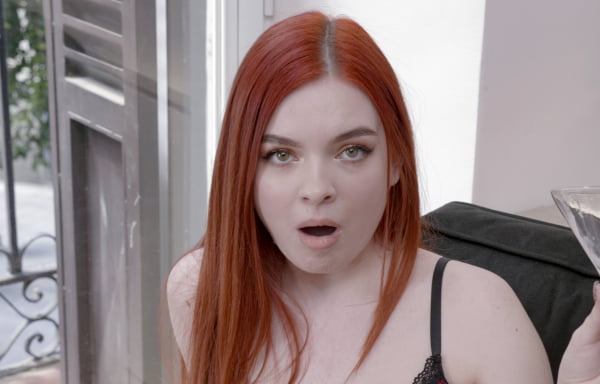 Miss Olivia #2 - Bukkake - Behind The Scenes
You can clearly see that Miss Olivia is a regular teen girl before she applies makeup but as soon as she gets her hair and face done, she transforms into a sexy redhead bombshell! Her alluring smile and genuine posing don't leave a chance for the guys to stand and not to cum, and she gulps gladly..
Miss Olivia #2 - Bukkake - Behind The Scenes
She stays nude and poses well, so you'll have a nice pack of photos with all her body details exposed :) After the bukkake she answers a few questions with cum on her face and once again admits she likes it and wants more. Who knows, probably, her next event will be even more intense?
Miss Olivia #2 - Bukkake
So we saw you love redheads, and Miss Olivia returned for her second bukkake :) She's more experienced now and without much prelude starts sucking cocks which she does great! When cumshots begin landing on her tongue, she's already prepared with a filthy smile. Her face become mudded in cum very quickly..
Miss Olivia #2 - Bukkake - First Camera
Olivia gulps her first big mouthful with a happy smile and continues catching cumshots from both sides. She uses a cum glass to hold the residuals and sometimes it gets useful as she gags a bit when the jizz taste becomes too harsh. Despite that, she handles a few very big mouthfuls and gulps them like a champ!
Miss Olivia #2 - Bukkake - Second Camera
Then she removes her elegant red dress and, staying nude with her beautiful boobs out, kneels down for more jizz loads. Although, the guys quickly shift to her face, flooding it with thick white streams that get into Olivia's eyes, making her look even more sexy and alluring. That redhead foxy needs more, for sure!
Roma #4 - Interview before Bukkake
It looks like Roma Amor can't wait to start her fourth bukkake as she's anticipating a big event today and wants to swallow everything she can reach for as fast as possible. She gladly tastes and enjoys slowly swallowing a small bottle of jizz which she manually collected herself. She feels totally ready!
Roma #4 - Bukkake - Behind The Scenes
These days Roma is not a teen babe anymore, she's a real gorgeous lady with a bouffant shape! She's stylish as hell and her makeup only underlines the beauty of her face. When she poses for a photosession, she takes so seductive poses, showing her ass to the guys around, so they quickly unload sudden cumshots into her mouth.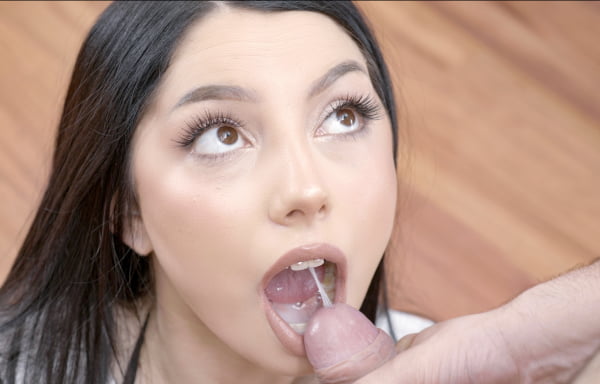 Roma #4 - Bukkake - Behind The Scenes
Roma feels excited after her bukkake, sitting cum-glazed on the floor and answering questions where she liked it most. She seems to enjoy the event a lot and looks like she truly loves the cum she swallowed! After having a shower, she can't miss an opportunity to swallow her last goodbye load before leaving. Ciao, Roma, come again!