Megan Nicole #2 - Interview before Bukkake
It may be a real trick whether Megan Nicole has come to her second bukkake because she likes cum or for some other reasons. Yet we know she's never tried cum from a glass, so she's definitely having a chance to try today. She collects three loads, tries them slowly and describes their taste. She feels ready for fifty more, huh!
Megan Nicole #2 - Bukkake - Behind The Scenes
Megan seems to have much more internal strength that it seems. She doesn't feel any nervous acts like a pro before her event. And when she poses for the photos, she dances so gracefully that instantly attracts the guys attention and catches a random load from one of them. Yes, tastes differ, but she knows how to move her ass!
Megan Nicole #2 - Bukkake - Behind The Scenes
Being heavily packed with cum all over her face, Megan manages to give a short interview, describing in details, what exactly she liked and why. She laughs and feels happy despite all those loads! After the shower, she quickly accepts and gulps her goodbye load with a sheer smile and flies away..
Megan Nicole #2 - Bukkake
This is the day of Megan Nicole and she's going to use the guys for her own pleasure :) Getting surrounded by five lads at once, she sucks their dicks one by one, trying to put efforts into each of them. It's not even clear who's more aroused - the guys or Megan as the cumshots appear very quickly..
Megan Nicole #2 - Bukkake - First Camera
Megan kneels down and prepares her martini glass for saving the male juice. She carefully watches how the lads unload their cumshots, filling it up with around 30 loads. She picks herself together and drinks the full glass smoothly, although it's seen how it's emotionally challenging for her, yet she does it with a smile..
Megan Nicole #2 - Bukkake - Second Camera
Megan removes her clothes with the help of Marina and kneels down for more jizz loads, this time both for her mouth and face! The guys are having a blast and cover her face with a thick dense white mask, not forgetting to fill her mouth full too! Megan is overwhelmed with sperm but takes her strength to finish her glass though.
Lia Ponce #3 - Interview before Bukkake
Lia Ponce starts her interview, humbly awaiting for the guys to cum into the cum glass she holds for them. She gladly describes how and why she loves bukkake in a specific way and then drinks her glass, demonstrating how she's going to perform in the next few hours, showing her tits and teasing the interviewer :)
Lia Ponce #3 - Bukkake - Behind The Scenes
Miss Ponce could have avoid makeup and stay beautiful as she is, young and natural, but when she goes out to the stage fully ready, she becomes alluring and simply magnificent. Posing for a photo shooting, she gets totally nude and shows all aspects of her body. She could get a lot of sudden loads but the guys await..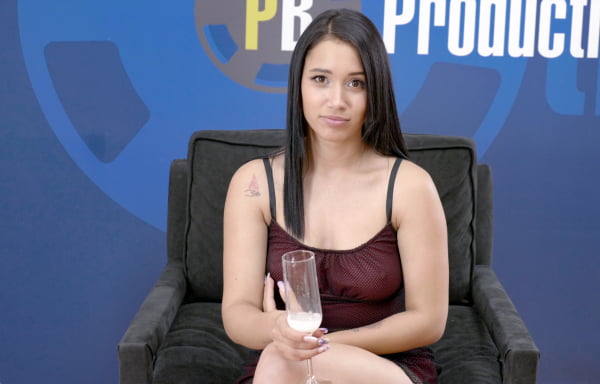 Lia Ponce #3 - Bukkake - Behind The Scenes
As her bukkake becomes very intense, it looks like it was right on the edge for Lia, powerful and fulfilling. But she takes it like a champ and shares her emotions afterwards. Having taken a shower, she's ready to play a game of a goodbye load and surely gets a winning prize! Do you think she deserves to return?
Lia Ponce #3 - Bukkake
Whoah, look who we got there! Oh, you voted for her? Huh, yes, Lia Ponce herself is back! She's goddamn ready to extract all the preserved cum from our lads that've been waiting for her for so long too! Her gentle blowjob skills don't leave them a chance so they start cumming quite quickly and intensely.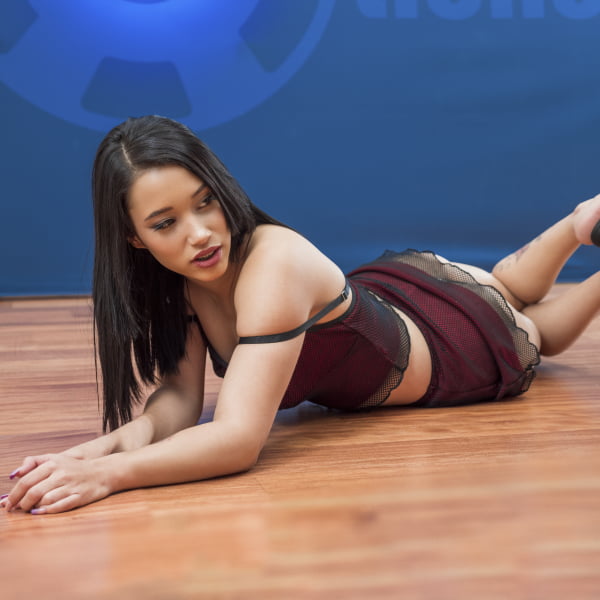 Lia Ponce #3 - Bukkake - First Camera
Lia Ponce look a bit naive with her teeth brackets on, but it may not delude you as you might know she's an avid swallower. The first loads are huge and fill her mouth full fast. She gulps with no issues and wants much more. The exuberant sperm lands on her beautiful face with open mouth. She helps herself.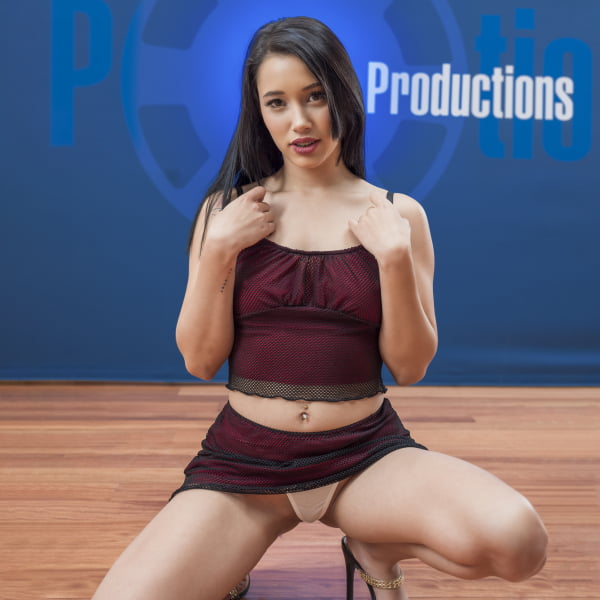 Lia Ponce #3 - Bukkake - Second Camera
Miss Ponce swallows several dozen loads and then prepares her cum glass for a big gulp. She fills her mouth full and plays with jizz a bit, then gulps focused. Slowly undressing and showing her perfect tits, she kneels down and accepts a few more dozen cum loads more for her face and mouth.. You'll just want more of this!
Darsi Devil #2 - Interview before Bukkake
Looks like Darsi Devil cannot get what she really wants - or she's intentionally surprised with either a direct dick sucking or drinking from a bowl. She makes quite an intense sensual blowjob during her interview and gets three wholesome loads to swallow them all. So, she wants a cum glass for her second bukkake? Ok, Darsi!
Darsi Devil #2 - Bukkake - Behind The Scenes
Probably it's exactly that case when the makeup changes a girl's face so drastically! So Darsi Devil transforms from a regular girl next door to an elegant vamp lady, wishing to suck the male juice from our lads. Well, well, she starts off posing in her strict office outfit and eventually catches a sudden cum load..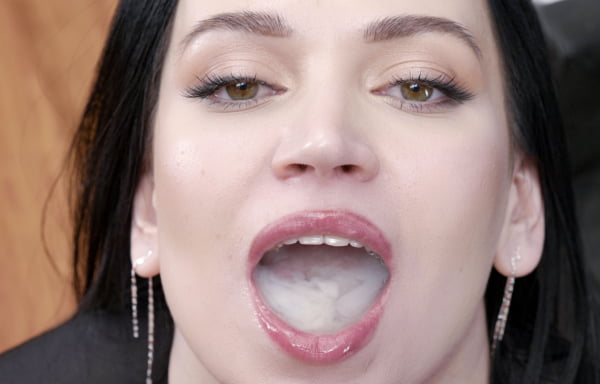 Darsi Devil #2 - Bukkake - Behind The Scenes
The cum lands on her black top but she continues as it's intended, keeping that smutty spot on.. At the end of her bukkake she's trying to fill the last cum bowl and to distinct the cum tastes but it seems too much for her, so she just makes another big chug. Being clean after the shower, she doesn't mind the goodbye load though :)