Lola Emme #2 - Interview before Bukkake
Beautiful Lola Emme lays seductively on the sofa and playfully answers some intimate questions. With three loads in her mouth, filled one by one, she tries to speak and even manages to talk intelligibly. She clearly enjoys her interview and the first warmup cumshots that she eventually gulps with a big smile!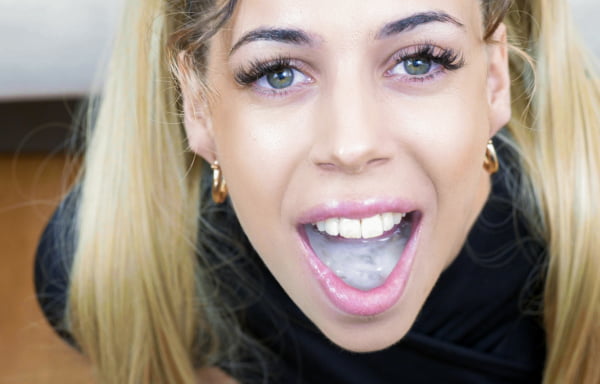 Lola Emme #2 - Bukkake - Behind The Scenes
Lola Emme seems to love herself and her body as she touches herself during makeup, alluring the guys to look at her. They don't mind not only looking but dropping a sudden cumshot right in the middle of a makeup or a photoshooting session. Lola just obediently swallows each of them and goes back to work :)
Lola Emme #2 - Bukkake - Behind The Scenes
With cum in her eyes but with a smile on her face, Lola tells how she likes the bukkake and tries to guess how many loads there were. That doesn't really matter as she's swallowed everything! Lola gets three more bonus cumshots and finishing this video with a gentle relaxing showering scene. Want her back?
Lola Emme #2 - Bukkake
Lola Emme, an Argentinian girl living in Spain, returns for her second bukkake as if she wasn't enough her first time :) She submissively goes for a short blowjob and the guys decide not to spend the time and start cumming in her mouth. Lola is surprised with the first loads and they even make her frown..
Lola Emme #2 - Bukkake - First Camera
But she holds the enormous amount of cum in her mouth and finally swallows at 32! She swallows a bit more, sits on a pillow and her cumscooper which is Marina Gold, undresses her nude.. The guys unload their thick cumshots on her beautiful face and she masturbates during that, trying to keep her eyes open..
Lola Emme #2 - Bukkake - Second Camera
That way she manages to accept both in her mouth and in her yes several dozens of cumshots more, and each rotation from eyes to mouth is clearly reflected on her face. Lola Emme shows amazing facial expressions and eventually gulps pure 83 decent cumshots. Well done, Lola, want more? :)
Min Galilea #1 - Bukkake - Behind The Scenes
Beautiful Min Galilea wants her to be even prettier and while applying makeup, she doesn't mind about gulping a pack of sudden loads. During the bukkake she not only tries holding big mouthfuls and swallow on command but also has her cute face thickly glazed with a couple dozen loads! Cum gets into her eyes!
Min Galilea #1 - Bukkake - Behind The Scenes
Our blue-haired cum princess wannabe does her best to keep her eyes with cum open but it's quite hard for her. While the guys fill her cum glass, she joyfully brings pleasure to herself and after some consideration, chugs her cum glass, actually totaling her personal record of 108 loads swallowed!
Min Galilea #1 - Interview before Bukkake
That's probably the richest interview we've had so far :) Min Galilea shares a lot of spicy details about herself and shares her deep understanding of male juice consumption by a girl like her. She proves her words by gulping the first couple of warmup loads and feels ready for bukkake!
Min Galilea #1 - Bukkake
Look who comes to us and wants to expand her cum gulping limits - beautiful Min Galilea, a Colombian teenie-wheenie amateur who wants to allow herself a giant influx of jizz to her life. She starts her energetic blowjob with a smile on her happy face as she's thrilled with the guys attention!
Min Galilea #1 - Bukkake - First Camera
She crawls to her swallow spot and gets on her knees, feeling ready for the cumshots. She accepts her first dozens loads with a shy smile and it's clear she hasn't tried so much sperm before. The vivid emotions of Min are priceless - she goes through her toughest gulps and continues collecting big mouthfuls..
Min Galilea #1 - Bukkake - Second Camera
She holds the cum bowl and wants to maximize her impression of the amount of cum she can gulp. It's a big challenge for Min but she is amazingly tolerant to the sharp tastes she meets! Getting her willpower concentrated, she eventually climbs up to the magical 64 figure and feels enough for today. Well done!
Katrina #1 - Interview before Bukkake
Katrina appears nude in a bathroom and shyly hides her tits but still gives replies to a few questions. Katrina loves dancing and traveling but hasn't got a lot of swallowing experience and just slowly uncovers her inner talents by gulping her first warmup loads. She dreams about sex in the airplane, btw ;)
Katrina #1 - Bukkake - Behind The Scenes
Curly Katrina searches for her ideal pose when trying to get depicted on the photos - she gets quickly spotted by a couple of guys on the stage who can't stand a temptation to drop a load in a beautiful mouth. She swallows both cumshots with no hesitation and a modest interest..
Katrina #1 - Bukkake - Behind The Scenes
Katrina sits on her knees, fully nude and with cum on her face and beautiful hair and assures that she loves what's happening with her during this bukkake :) Certainly she does. Eventually, she has a nice long shower scene and doesn't seem so shy anymore. Surely a transforming experience for her!