Chloe Heart #1 - Interview before Gloryhole
Chloe Heart is a pretty newcomer that hasn't got a lot of swallowing experience but she loves sex and doesn't mind about bringing more jizz to her life. She says she loves it and even shows on herself how exactly she loves it.. Chloe gets a couple of cumshots without any hesitation and states she likes liquid cum more :)
Chloe Heart #1 - Gloryhole - Behind The Scenes
Despite our makeup artist is a top-notch one, some girls like Chloe Heart could even run without that but we can see how the girl becomes more confident after making up her face and hair. When she enters the stage, she's a super sexy kitten with long legs and deep eye look which drives the guys crazy.
Chloe Heart #1 - Gloryhole - Behind The Scenes
One of them quickly approaches her and can't hide his desire to drop a jizz load to her mouth. Chloe gulps with some efforts and emotions and continues posing nude.. Feeling relaxed and happy after her gloryhole, she can't miss a goodbye load either and takes it like a champ with just a little smirk.
Chloe Heart #1 - Gloryhole
We have a new girl today - a skinny teenage babe came from Czechia. She's just 18 y.o. and has tiny tits and a tight ass. Chloe Heart is her name and she doesn't have a lot of blowjob experience and cum swallowing one too! But she is set to do her best and nervously welcomes the dicks in the glory holes..
Chloe Heart #1 - Gloryhole
Although she takes her pace and jerks and sucks quite skillfully, so she's not a virgin for sure. Although the first loads surprise her but she swallows instantly and continues. Chloe accepts the cumshots one by one ad accurately catches them with her lips. Not every cumshot tastes wonderful for her though :)
Chloe Heart #1 - Gloryhole
She can't hide her emotions on some jizz loads but she's set to gulp them all! After swallowing 17 of them she feels hot and removes her panties. Each following cumshot is being taken harder by her but she manages to gulp her first 20 loads, although through efforts and emotions, but she overcomes herself eventually..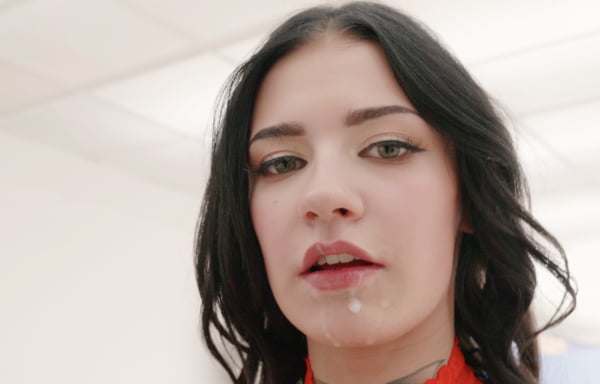 Dalila Dark #2 - Interview before Bukkake
Despite Dalila Dark looks to be experienced in her sex life, she actually doesn't know much about her attitude to sperm. Although, she truly loves sucking dicks and she even loves deepthroat! So far, she goes into her first bukkake with a clear mind and a good mood, as she gets warmed up with a couple of big cumshots upfront :)
Dalila Dark #2 - Bukkake - Behind The Scenes
Oh those modern girls. You might ask why they do all those tattos and piercings but the answer is simple - they just want to be beautiful. Dalila Dark, although, is a true natural beauty and when she goes to the stage - she looks great and sexy! So a guy approaches her and drops a load into her mouth..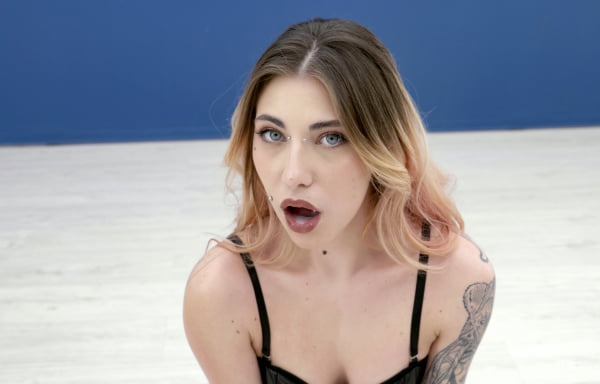 Dalila Dark #2 - Bukkake - Behind The Scenes
Dalila is a bit surprised with the size of the load but swallows it after licking her lips.. After the bukkake she is left with a glass of cum and tries to drink it with one gulp but it's a real challenge for her. Dalila is a brave girl but she has her own limits. It's a big question if she wants to return, but let's see..
Dalila Dark #2 - Bukkake
Eventually the kinky babe from Italy - Dalila Dark - is back for her bukkake as she got already acquainted to cum swallowing during her first gloryhole. She quickly starts sucking the guys' dicks and literally gags herself with them, although she takes it quite easy. So when the jizz starts to erupt - she's ready.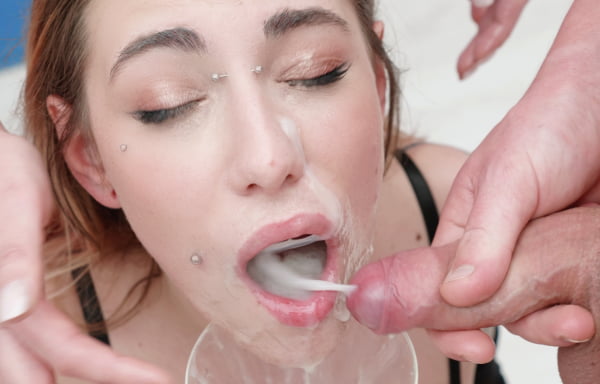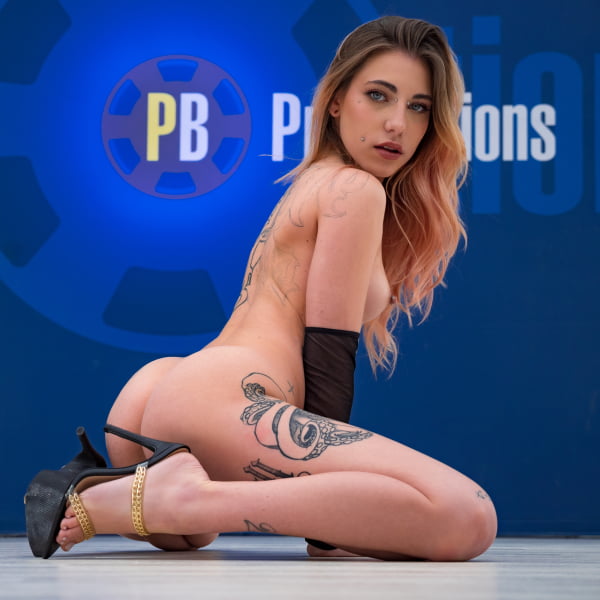 Dalila Dark #2 - Bukkake - First Camera
Dalila looks straight to the camera when the first cumshots land into her mouth. She tries to collect and keep up a big mouthful and when it's time to swallow - she does it instantly on command, gargling a bit before that. The sperm comes to her eyes but she goes on, getting fed with cum from both sides.
Dalila Dark #2 - Bukkake - Second Camera
The second big gulp is a bit heavier for Dalila but she is set to swallow everything she's offered today! Either she becomes horny or the cum makes her look even better but with cum on her face she looks perfect! She feels quite enough after getting facialized with some residual cum and even tries to finish her cum glass...
Scarlett Lapiedra #1 - Interview before Bukkake
Scarlett Lapiedra is truly amazing. She's one of the rarest girls who likes to be cummed on her face. She feels horny when cum is flooded upon her cheeks and she even asked us to include that into her first bukkake! Scarlett doesn't mind of swallowing too and tries a couple of cumshots to warm-up.
Scarlett Lapiedra #1 - Bukkake - Behind The Scenes
You can't say what would happen if Scarlett Lapiedra was filmed without a makeup but maybe even nothing would change :) She's young and beautiful and knows that by herself. She poses gracefully for the photo session and no one on the stage is left untouched by her body.
Scarlett Lapiedra #1 - Bukkake - Behind The Scenes
She still sits down with cum on her face and gets some bonus cumshots onto her face and mouth. Scarlett doesn't have any issues in finishing off her cum glass despite the gulping actually gave her quite hard emotions during the bukkake. She gets nude and licks her cum glass clean after drinking, then goes to the shower..