Jessy Jey #4 - Bukkake
If you ever have had any doubts if Jessy Jey loves or can at least swallow a lot of sperm at a time - today she's going to make those doubts vanish! Jessy bravely enters the scene and does a beautiful blowjob warmup, making the guys feel ready to erupt.. But even the first pack of cumshots makes Jessy go slower..
Jessy Jey #4 - Bukkake - First Camera
From the very beginning she gets cumshots across all her face but she tries to keep it clean, showing the guys to aim in her mouth. They satisfy her request and stuff her with 89 huge cum loads and she eagerly swallows all the jizz in series of 7-10, however, the further the harder, though..
Jessy Jey #4 - Bukkake - Second Camera
Some loads purely shock Jessy with their taste but she doesn't dodge and helps herself to direct everything into her mouth, until she gets a direct cum in eye flood. Jessy looks totally overwhelmed with that cum on her face but she's strong enough to finish the job and gulp everything from the bowl too!
Lola Emme #1 - Interview before Bukkake
It turns out, Lola Emme has been wishing to do a bukkake scene for several years and only now the stars have collided and she's finally decided to do that :) She feels so excited about lots of guys she sees around, so holding out cum in her mouth for several minutes won't be a hard for her. She truly loves cum..
Lola Emme #1 - Bukkake - Behind The Scenes
Lola may be just a regular girl but when she makes her hair and tints her eyes a bit, all guys around fall under her chars. She accepts a few random cumshots from the lads who saw her posing for a photo session just before the main action. Lola swallows with pleasure, licking her lips and fingers..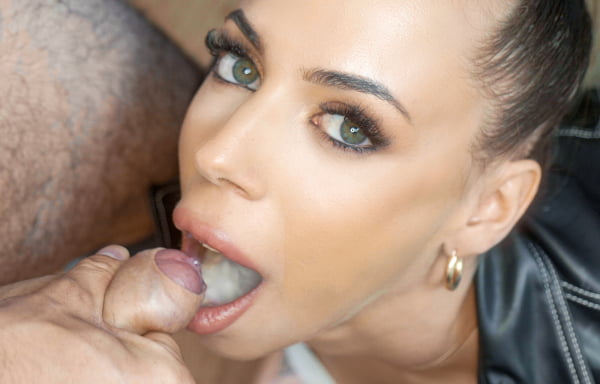 Lola Emme #1 - Bukkake - Behind The Scenes
Lola eagerly welcomes every guy wishing to drop a jizz load in her mouth when she's posing and swallows the cum insatiably. After the main action Lola doesn't mind a short interview with cum still being in her eyes.. She enjoys her shower and finishes her first in the life bukkake with a happy smile :)
Lola Emme #1 - Bukkake
A stylish girl from Argentina, Lola Emme is the newest addition among the ones who wants to try huge amounts of cum at a time. She definitely is able to use her throat as a cock sheath and literally stuffs herself upon the dicks that pop around her. With a lecherous smile she gets ready for swallowing jizz..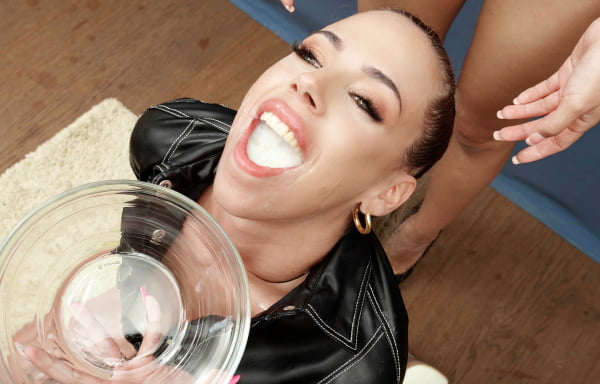 Lola Emme #1 - Bukkake - First Camera
Lola doesn't feel neither embarrassed or wondered by gulping the first two dozens of loads and just gets hornier when Marina Gold undresses her and plays with her tight ass. Shortly Lola gets nude and after swallowing 64 loads feels an unstoppable need to stimulate her clit for maximum pleasure..
Lola Emme #1 - Bukkake - Second Camera
She puts her smiling face under the strong streams of thick white semen and the guys aim perfectly into her eyes.. She keeps them open and masturbates, feeling really excited about the surrounding and gulping all she's offered! An unexpected performance from a totally unknown girl is purely amazing!
Andrea #1 - Interview before Bukkake
Oh wow, you might guessed that, Andrea is not that shy at all! She loves doing blowjobs on the beach and she always swallows, however, only with her boyfriends. Without any hesitation, Andrea accepts and gulps her first two warmup cumshots and feels optimistic for her first bukkake! She doesn't know yet..
Andrea #1 - Bukkake - Behind The Scenes
Andrea barely finishes her makeup when the first bukkakero wants to drop his load into her mouth. She obediently awaits when he cums and that single huge cumshot amazes her a lot! Andrea continues to the photoshooting and since she's into modelling, her posing skills are excellent!
Andrea #1 - Bukkake - Behind The Scenes
In the middle of the process, however, she allows herself to accept a couple of more quite big cum loads, shows the mouthful on camera and beautifully swallows all the cum slowly. The jizz stays on her shirt and Andrea doesn't seem to like that :) After a short interview with cum on face, she enjoys her shower..
Andrea #1 - Bukkake
We got a new talent here - Andrea from Spain could be a fashion supermodel but she's here, trying to test herself against a bunch of horny lads wishing to explode their cumshots into her nervously smiling mouth. She does like group orgies but she hasn't seen so many dicks at once! Bravely she starts sucking..
Andrea #1 - Bukkake - First Camera
She looks very surprised when the first loads touch her mouth but holds them well. When she gulps, it's obvious the taste is so sharp for her she can't hide the emotions. Despite that, Andrea continues and accepts more than 50 loads before she feels the cum inside. The guys shift their aim to her face..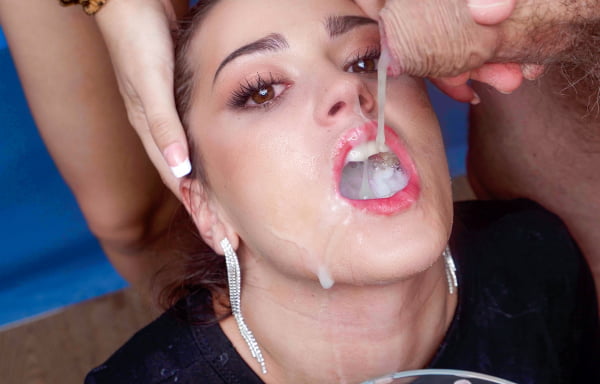 Andrea #1 - Bukkake - Second Camera
Andrea looks magnificent with cum flowing to her eyes and she feels excited! She has never experienced anything close to that and feels a bit overwhelmed. With cum on her face, she tries to make a few more gulps and even swallow what's left in the cum bowl.. Andrea does her best in her strongest effort..