Venus On Fire #1 - Bukkake
So you love uniform outfits? Today we have a beautiful Brazilian babe - Venus on Fire - who is dressed like a slutty maid and looks gorgeous when she shoots seductive glances right to the camera. The guys are ready to stuff their dicks into her mouth and unload the jizz they've been saving for the whole week!
Venus On Fire #1 - Bukkake - First Camera
Venus makes a deep and sensual blowjob for several minutes and opens her mouth wide for the incoming cumshots. The first loads are thick and powerful and she quickly collects a big mouthful. Venus swallows with no hesitation and holds the jizz in her mouth easily. She gets instantly messed with cum but she doesn't care.
Venus On Fire #1 - Bukkake - Second Camera
Having gulped around 50 loads, she undresses and stays nude with cum strains on her, then she puts on a new outfit and comes for five dozen loads more, which go not only to her mouth, but directly into her eyes, onto her hair and all over her face. She looks marvelous with cum on her face and even makes a few gulps with eyes open!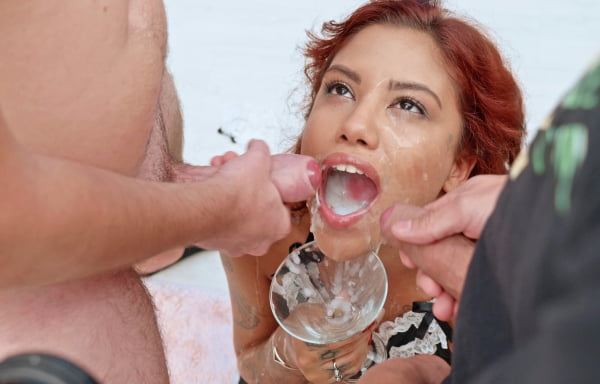 Fanta Sie #1 - Bukkake
This is the day, when a new record is beaten - today we have a stunningly beautiful Slavic teacher babe - Fanta Sie - who came to us in a great desire to open the world of bukkake for herself. The moment can't be better than now and a big crowd of guys have been waiting for her and saving the loads for quite a while!
Fanta Sie #1 - Bukkake - First Camera
Fanta Sie does a beautiful blowjob and smoothly kneels down for the massive jizz inflow! The lads shoot cum intensely and she gulps them in dozens, one by one! She quickly becomes messed with jizz and her face and the whole outfit looks amazing, however she undresses and stays nude for more!
Fanta Sie #1 - Bukkake - Second Camera
After swallowing a hundred cumshots, Fanta becomes overwhelmed and makes a short break but returns for more, collecting another hundred in her gokkun bowl and watching it closely. Then she drinks that giant glass of cum in a few sips but slowly. Eventually she gets jizzed all over her face and eyes!
Fanta Sie #1 - Bukkake - Behind The Scenes
Fanta Sie came to us from cold Russia but she's warmly welcomed in Madrid with a hot cumshot that's offered for her right at the entrance. She's excited to accept it and instantly kneels down for that. She cheerfully smiles and gulps with pleasure..
Fanta Sie #1 - Interview before Bukkake
It looks like our beautiful school teacher Fanta Sie has come to Madrid not only to swallow cum but she's doing a genetic science research! Such a clever girl knows that a personal experiment is the best way to learn new things, so she goes through all this by herself! She casually starts with gulping a couple of loads with a smile..
Fanta Sie #1 - Bukkake - Behind The Scenes
As soon as the guys see Fanta changing her clother and flashing her boobs out, one of them quickly finds his way to her mouth and drops his load there. She smiles slyly and just gulps. After the bukkake she gives a short interview being covered in jizz, goes to the shower and then, fully clean, gulps her goodby load with no doubt!
Nicole Rae #2 - Bukkake - Behind The Scenes
Nicole Rae was a bit exhausted during her first bukkake but we respect her decision to take another chance and try to actually reach her limits in cum volume that she can swallow. As soon as she changes her clothes and gets prepared for the actual bukkake, she's offered a warm load that she doesn't want to deny..
Nicole Rae #2 - Bukkake - Behind The Scenes
She calmly kneels down and patiently awaits while the guy unloads his cumshot into her mouth. Nicole shows everything to the camera and gulps with a tricky smile. When she enters the stage and shows herself to the audience, she gets caught in attention of a couple of lads who can't skip their chance to drop their loads to her mouth too!
Nicole Rae #2 - Bukkake - Behind The Scenes - Goodbye Cumshot
After the bukkake Nicole explains how not easy it was for her today but she did everything well, stepping over her quick emotions and using her sheer will and commitment. :) When she's fully ready to leave, Nicole gets another chance show us how tough she can be and how she can swallow random cumshots! And she does it properly!
Nicole Rae #2 - Bukkake
Nicole Rae, a slutty American girl next door, is back for her second bukkake and this time she knows exactly what to do, so she instantly kneels down and starts sucking the guys' dicks. She does it quite well and properly, trying to please everyone with various techniques and the lads reply to her with massive cumshots!
Nicole Rae #2 - Bukkake - First Camera
Nicole Rae gets prepared for the incoming cum loads but still the first shots always surprise the girls, especially when they land to their eyes and hair. She still keeps her mouth and eyes open, catching and collecting everything. The first big mouthful collected was really big for Nicole and she put efforts into the gulp.
Nicole Rae #2 - Bukkake - Second Camera
Right after she feels that the sperm is kicking in but Nicole decides to continue. She doesn't smile but just accepts the jizz power and holds the cum in her mouth. She gulps on command and helps herself to direct everything to the mouth. Later the guys switch to her eyes and forehead, so she gets jizzed all over too!