Melania Dark #1 - Bukkake
Young and beautiful Melania Dark has never done porn shooting before. Thus surprising, how she decided to start with a bukkake but we surely appreciate this choice! She doesn't bother too much about sucking dicks and excitingly anticipates the cum swallowing action. So the guys start cumming!
Melania Dark #1 - Bukkake - First Camera
Melania eagerly accepts and holds her first dozen cumshots and gulps by command, licking her fingers clean afterwards.. She seems to enjoy the taste and gets relaxed, collecting more cum loads with a smile. Melania holds a cum bowl but barely uses it as she directs all the cum into her mouth by herself!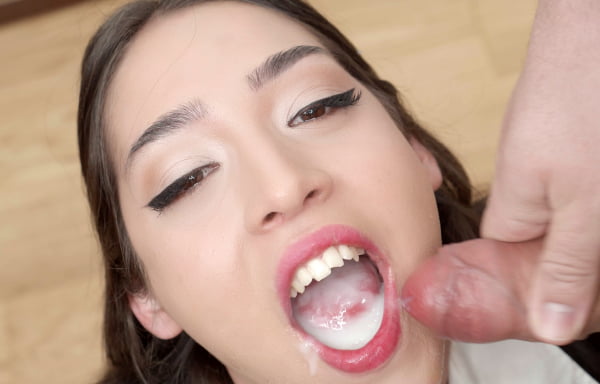 Melania Dark #1 - Bukkake - Second Camera
After swallowing 45 loads, she is ready for the facial part and the guys don't hesitate to unload the thickiest sticky loads right into her eyes, so the cum stays on her cheeks and slowly pours to her mouth. Amazingly being cum-glazed, Melania makes the final gulp from her bowl, keeping her eyes open. Wow!
Ohana Petite #3 - Interview before Bukkake
Ohana explains how easy it is for her to do a bukkake, that's why she's decided to go for the third time. She feels an empowered Cum Princess and describes the smallest nuances of cum taste and smell. She really becomes a pro at swallowing and easy proves it by gulping a couple of loads with ease..
Ohana Petite #3 - Bukkake - Behind The Scenes
Adorable Ohana elegantly poses in front of the camera and really enjoys the process. The guys around see her posing and can't hold themselves to drop a load into her little mouth. Ohana just helps herself to direct cum into her mouth and obediently gulps. She's charmingly beautiful these moments..
Ohana Petite #3 - Bukkake - Behind The Scenes
Ohana says it's easier for her to swallow than to keep her eyes open while being facialized but she goes beyond her limits and opens her eyes with cum in them and tells us how she's excited! She licks her cum bowl clean and goes to the shower and then accepts and gulps three more loads! Outstanding!
Ohana Petite #3 - Bukkake
We all wanted her back and this day has come - stunning Ohana Petite returns for another massive bukkake! She's just turned 20 but for us she's still a naive redhead teen who in fact has become a cum swallowing Princess during her prior bukkake experience :) Now she's on her knees accepting hot cum..
Ohana Petite #3 - Bukkake - First Camera
Beautiful Ohana looks adorably into the camera when holding cum in her mouth and it's truly a mesmerizing view. Her tongue trembles when she holds a big mouthful and she swallows on command. Ohana manages to hold and swallow four big gulps by ten loads each and feels fine! This girl has something in her..
Ohana Petite #3 - Bukkake - Second Camera
She seems to be testing herself as how far she can go towards sperm. Ohana puts her face under endless cumshots and the guys cover her face with a thick layer of cum which pours into her eyes and onto her cheeks. Ohana smiles, gulps one more load and states she likes swallowing more than facial.. OK :)
Julia de Lucia #1 - Interview before Bukkake
During the interview with Julia de Lucia we may learn some interesting things about her and the history of her relationship with sperm - you'd be surprised she likes to play with cum but has had not a lot of chances to do that earlier. She'd be given a chance of course and she starts with a thick first gulp..
Julia de Lucia #1 - Bukkake - Behind The Scenes
After applying makeup, gorgeous Julia gets naked and poses for a photoshooting where she's offered to swallow four sudden cum loads in a row and agrees with no doubt, gulping them one by one! Looks like she finally has an opportunity to consume as much sperm as she wanted through all her life! :)
Julia de Lucia #1 - Bukkake - Behind The Scenes
Being fully cum-glazed, Julia tries to remove jizz from her pretty eyes, despite that she claims she likes the action and feels great! Julia finds the taste of sperm to be delicious for her and after having a shower she gulps three goodbye loads with pleasure! Amazing to see a girl falling in love with cum!
Julia de Lucia #1 - Bukkake
Adorable Julia de Lucia is our first girl from Romania and we're all excited about her first bukkake! She's got some experience in porn but never tried swallowing so much cum as she expects today. After a quick blowjob to a few guys, Julia gets on her knees to accept her first pack of jizz loads..
Julia de Lucia #1 - Bukkake - First Camera
The guys have been preparing for several days and unload really huge loads to Julia's welcoming mouth. She tries to catch the cum spurts and holds decent mouthfuls quite carefully, gulping after small series of cumshots. Julia helps herself and licks the sperm from the bowl to keep it empty..
Julia de Lucia #1 - Bukkake - Second Camera
After 34 loads swallowed, Julia puts her beautiful face under the heavy thick streams of sperm to eventually have her face merely flooded with sperm, including her eyes and forehead. Being fully naked by that moment and cum-glazed, Julia looks fantastic! Her first bukkake is a true gem for our collection!