Daisy Lee #2 - Bukkake - First Camera
Long-legged big-busted babe from Czechia - Daisy Lee is back for her second, even bigger bukkake! She instantly starts with a sensual blowjob for every dick she sees amd the lads don't make them wait for too long to unload their prepared cumshots right into Daisy's mouth..
Daisy Lee #2 - Bukkake - Second Camera
Daisy feels every nuance of the sperm taste from each load and expresses a wide gamma of emotions. After like 50 loads her beautiful face gets covered with cum as well as her eyes are flooded with sperm too! She bravely drinks 67 loads from her bowl and accepts a few more killing cumshots. What a babe!
Daisy Lee #2 - Bukkake - Behind The Scenes
Daisy is so overwhelmed with the amount of cum she had to take so barely could hold the last cumshots during the interview she gave while being covered in cum. But is that enough for her? To ensure, she tries to swallow the last goodbye cumshot right before she leaves the studio! Now she's real good :)
Henna Ssy #1 - Bukkake - Part 2 - First Camera
Our school teacher Henna Ssy gets back for another portion of cum, this time prepared for her smiling face. The guys start cumming unexpectedly but Henna is prepared and swallows with ease. She's a bit shy when guys joke at her but gets focused when they spurt their loads right away into her eyes!
Henna Ssy #1 - Bukkake - Part 2 - Second Camera
Probably Henna has never felt so dense and sticky cum as she simply can't open wide her eyes with around 30 cum loads in them. However, she manages to look into the camera when cum flows into the bowl and eventually collect more cum in her mouth. After drinking the bowl, she feels great and ready for more!
Henna Ssy #1 - Bukkake - Part 2 - Behind The Scenes
Sure thing we can't let her go away so easily. Besides the main footage, you can see how she teases the guys, undresses and eventually swallows not even one, but three additional cum loads as a good-bye gulp :) She absolutely deserves more and we'll be waiting for her to return!
Ashley Ocean #2 - Gloryhole
Ashley Ocean tries gloryhole today for the first time in her life. She doesn't know what to expect but is ready to suck and gulp. She has a master degree in blowjob and gives head gently to guys from both sides of the gloryhole box. When they start to cum, she tries to save the first few 7 loads..
Ashley Ocean #2 - Gloryhole
Being a first-timer, Ashley gets cum messed on her face but eagerly accepts the cumshots and show each load for the camera. She stays fully naked and we can see how she puts efforts into swallowing each portion. It doesn't always goes easy for her but she manages to gulp 29 cum loads in total, wow!
Ashley Ocean #2 - Gloryhole - Behind The Scenes
In her Behind The Scenes footage we can see how Ashley transforms after a makeup from a naive teen-looking babe into a vamp slut. She seducingly poses for a photo shooting and teases the operator. Sure you love her :)
Cherry Kiss #2 - Bukkake
This time Cherry Kiss wants it big. She instantly throws herself into intense dicksucking which can't get long enough as the guys feel so horny about Cherry so they start cumming right in a few minutes. Cherry swallows with pleasure and the guys continue spurting their loads on her face and into the open eyes..
Cherry Kiss #2 - Bukkake - First Camera
The Slavic cutie gets fully covered in sperm - enormously thick cum spurts flow across her cheeks and chin while she tries to see something with her eyes flooded with jizz also. She manages to accept 58 cum loads and drinks all the sperm from her bowl. The guys just can't stop that and continue..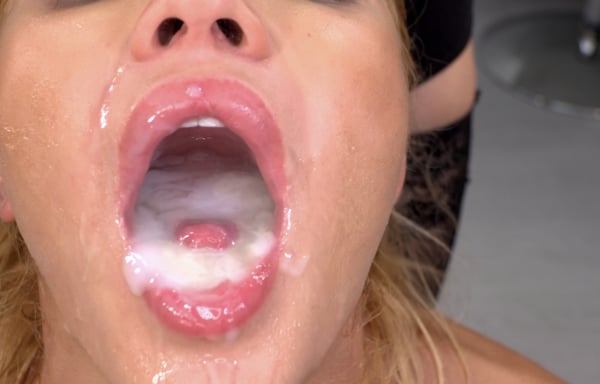 Cherry Kiss #2 - Bukkake - Second Camera
Cherry Kiss receives a dozen loads more after the big gulp and shows a nice mouthful so we can see how she beautifully does two more gulps. She gives a nice interview after her bukkake and we have Behind The Action scenes too where she prefers to swallow another cumshot instead of water. She just loves cum!
Freya Dee #1 - Gangbang
There were no gangbangs for quite a while on PremiumBukkake, it's time to show some :) Freya Dee, a slim Slovak babe comes for her portion of cum and fuck today. She starts with a nice teasing dance and then quickly moves to giving head. She merely wants to taste each dick in a room and she does it well!
Freya Dee #1 - Gangbang
Some guys are so horny so they gag Freya with their dicks but she doesn't have any problems with that and she goes ahead to the actual gangbang. Guys fuck her in various positions and she tries to suck dicks while being fucked as well. Eventually the guys cum on her face and the sperm gets into her eyes..
Freya Dee #1 - Gangbang
With cum on her face she's being fucked and tries to reach an orgasm while the guys shoot their cums loads into her mouth, filling it fully so she can gulp. She experiences some difficulties in swallowing but continue. Eventually she gets 27 cumshots totally. Let's see how she handles that :)