Lola Emme #1 - Bukkake
A stylish girl from Argentina, Lola Emme is the newest addition among the ones who wants to try huge amounts of cum at a time. She definitely is able to use her throat as a cock sheath and literally stuffs herself upon the dicks that pop around her. With a lecherous smile she gets ready for swallowing jizz..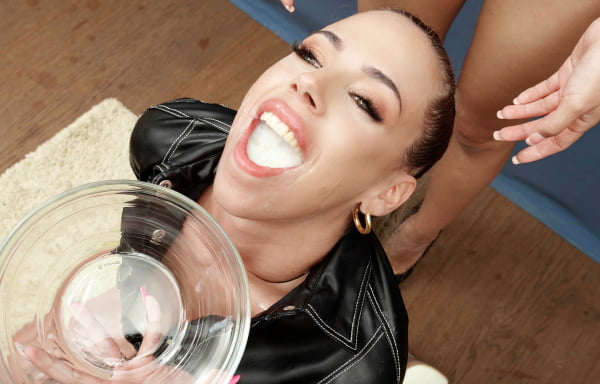 Lola Emme #1 - Bukkake - First Camera
Lola doesn't feel neither embarrassed or wondered by gulping the first two dozens of loads and just gets hornier when Marina Gold undresses her and plays with her tight ass. Shortly Lola gets nude and after swallowing 64 loads feels an unstoppable need to stimulate her clit for maximum pleasure..
Lola Emme #1 - Bukkake - Second Camera
She puts her smiling face under the strong streams of thick white semen and the guys aim perfectly into her eyes.. She keeps them open and masturbates, feeling really excited about the surrounding and gulping all she's offered! An unexpected performance from a totally unknown girl is purely amazing!
Andrea #1 - Interview before Bukkake
Oh wow, you might guessed that, Andrea is not that shy at all! She loves doing blowjobs on the beach and she always swallows, however, only with her boyfriends. Without any hesitation, Andrea accepts and gulps her first two warmup cumshots and feels optimistic for her first bukkake! She doesn't know yet..
Andrea #1 - Bukkake - Behind The Scenes
Andrea barely finishes her makeup when the first bukkakero wants to drop his load into her mouth. She obediently awaits when he cums and that single huge cumshot amazes her a lot! Andrea continues to the photoshooting and since she's into modelling, her posing skills are excellent!
Andrea #1 - Bukkake - Behind The Scenes
In the middle of the process, however, she allows herself to accept a couple of more quite big cum loads, shows the mouthful on camera and beautifully swallows all the cum slowly. The jizz stays on her shirt and Andrea doesn't seem to like that :) After a short interview with cum on face, she enjoys her shower..
Andrea #1 - Bukkake
We got a new talent here - Andrea from Spain could be a fashion supermodel but she's here, trying to test herself against a bunch of horny lads wishing to explode their cumshots into her nervously smiling mouth. She does like group orgies but she hasn't seen so many dicks at once! Bravely she starts sucking..
Andrea #1 - Bukkake - First Camera
She looks very surprised when the first loads touch her mouth but holds them well. When she gulps, it's obvious the taste is so sharp for her she can't hide the emotions. Despite that, Andrea continues and accepts more than 50 loads before she feels the cum inside. The guys shift their aim to her face..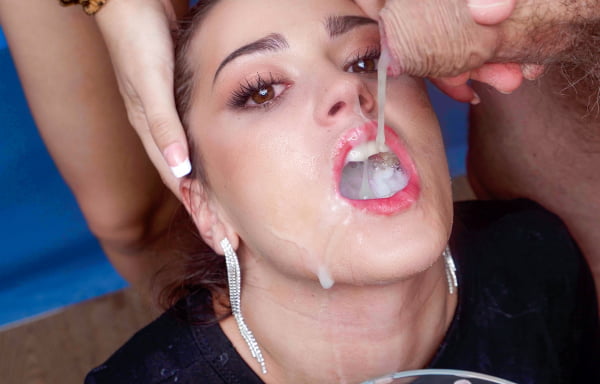 Andrea #1 - Bukkake - Second Camera
Andrea looks magnificent with cum flowing to her eyes and she feels excited! She has never experienced anything close to that and feels a bit overwhelmed. With cum on her face, she tries to make a few more gulps and even swallow what's left in the cum bowl.. Andrea does her best in her strongest effort..
Melody Teen #1 - Interview before Bukkake
Melody Teen is just 19 y.o. but she's already acquainted to the taste of sperm, although, she hasn't got a big experience yet. Now she wants real hardcore and gets ready to swallow even a hundred loads! When it gets down to business, Melody accepts and gulps the first pair of cumshots with no hesitation..
Melody Teen #1 - Bukkake - Behind The Scenes
Melody just seems to want look older so she applies the makeup, yet she stays an innocent looking one. When she poses for the photosession, the guys around can't hold themselves and drop a few loads into her welcoming mouth and Melody swallows everything! She surely becomes a true cum lover!
Melody Teen #1 - Bukkake - Behind The Scenes
Melody is not shy at all though as she opens her legs wide and shows her pussy to the guys. With cum on her face and in her eyes, she gives a short interview and explains her feelings in details and then we can see her taking a shower and showing her beautiful young and fresh body. Want her back?
Melody Teen #1 - Bukkake
Today we have a young brunette who claims she likes cum, let's see! Melody Teen as she calls herself is just 19 years old but she already knows how to treat a cock! Her intense blowjob action is welcomed by the guys as she merely gags herself with their dicks. She gets quickly ready for accepting cum..
Melody Teen #1 - Bukkake - First Camera
From the very first loads it gets messy for Melody as the cumshots land on all her face but she manages to hold the mouth full of cum well without efforts. She even smiles during her first dozen loads but can't hide her emotions when gulping. Yet she still tries to collect everything that's prepared for her.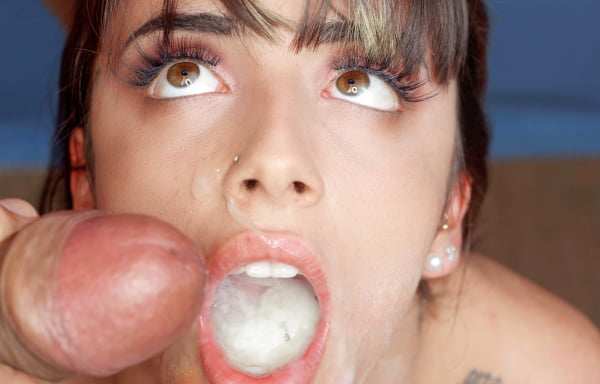 Melody Teen #1 - Bukkake - Second Camera
Melody sits on her knees fully nude, holding the cum bowl and obediently catching the cumshots from both sides. The guys send their thickest cumshots to her pretty eyes so with all that cum on her face she finishes her bowl with two sips. After another thick portion of cum on her face she feels quite enough.