Barbie Esm #1 - Bukkake - First Camera
Barbie Esm from Czechia is just 25 y.o. but already has incredible boobs! Her brave start with a sensual blowjob goes so well that she gets surprised by an unexpected cumshot. Her pink plumpy lips create an amazing contrast with the white sperm when she shows big mouthfuls on camera before swallowing..
Barbie Esm #1 - Bukkake - Second Camera
She probably didn't expected the cum would be so dense and thick. Her eyes are so beautiful that guys can't resist cumming onto them, so she looks even more marvelous when the sperm fills in. She keeps smiling with cum on her face and eventually accepts 59 loads, the majority of which she gulps nicely!
Barbie Esm #1 - Bukkake - Behind The Scenes
Behind the main action we can watch how Barbie does some intimate things in the shower and also how she gets a real surprise cumshot during a photo session. And of course we can't miss to ask her to drink a bottle of sperm during an interview - and she can handle it all! Looks like she's not enough ;)
Venera Maxima #1 - Gloryhole
Gorgeous Ukrainian blonde beauty Venera Maxima continues her cum-swallowing venture in Madrid and this time she is ready to suck all cum from the dicks poking to her face out of the gloryhole walls..
Venera Maxima #1 - Gloryhole
Dressed in an elegant white dress, Venera gently touches and licks each dickhead, arousing the guys before they start cumming. Sometimes she helps herself with hands, sometimes ruins orgasms for guys so they get crazy, shooting their loads in air but Venera catches them and swallows all..
Venera Maxima #1 - Gloryhole
By gulping like 25 loads, she gets messy and aroused by all the cum she's already swallowed. Nonetheless, she continues taking all the loads guys have been saving for her for weeks. Sperm goes on her face and chin but she eagerly swallows everything, ticking the load counter to 43 cumshots. Wow!
Venera Maxima #1 - Bukkake
Hey, do you like blondes as much as we like them? Here you are a top notch one - Venera Maxima, a young pornstar who breaks into the stage with unexpected energy and sheer will to swallow every drop of cum our bukkakeros have prepared for her! She merely can't wait until she's allowed to swallow!
Venera Maxima #1 - Bukkake
Venera collects several big mouthfuls of dozen loads each and we can see how she's fed with the cum energy the guys provide for her! She enjoys every load, even some nasty ones when sperm goes into her nose and eyes and makes her pretty face messy, but eventually she gulps 111 thick and dense cumshots!
Venera Maxima #1 - Interview Before Bukkake
This busty blonde pornstar has started her career just half a year ago but she seems to be already acquainted to sperm swallowing as we can learn from her interview. She says she loves taking the male power through their dicks and proves this by drinking a bottle with several cums loads inside with ease!
Maria Teen #2 - Bukkake
Today Maria gets back for her second bukkake! She is even more beautiful today and her charming smile warms up the guys who prepare their dicks to stuff into her mouth. Maria sucks and jerks in the same time, getting ready for cum swallowing and the first huge loads fill her mouth quite intensively...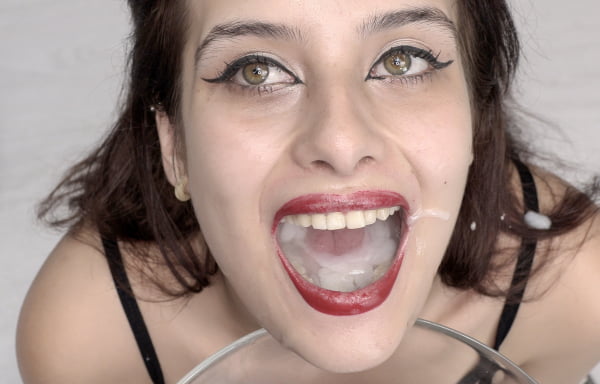 Maria Teen #2 - Bukkake - First Camera
She swallows in small portions and feels good about sperm. Maria cheers and smiles to the guys so they get aroused and shoot even more cum sprouts onto her face, missing the mouth sometimes but making her look even nicer with thick white jets on her cheeks...
Maria Teen #2 - Bukkake - Second Camera
She obediently keeps her mouth open, showing all the sperm collected there and eventually swallows 30 loads, finishing up her cum bowl in the end, licking her fingers and helping sperm to come into her mouth. Maria is truly a new pearl in our collection and she proves this again! See you, Maria Teen :)
Damaris #1 - Bukkake
Look at this Spanish lady Damaris, a lovely MILF that is into kinky stuff but haven't tried bukkake yet! So far, this is her first cum swallowing experience and she starts with double blowjobs that quickly turn into a real blowbang! When five guys surround her at once, her face is warmed with a wide smile!
Damaris #1 - Bukkake - First Camera
When the cum starts to spurt into her wide open mouth, she eagerly catches the loads and holds them well, collecting her mouth full of sperm and helping to direct the loads inside. She swallows her first several dozen loads without hesitation, waiting for more..
Damaris #1 - Bukkake - Second Camera
When the loads counter hits 34, the guys decide to flood her face with the thick cumshots that would hold well and complement her smile - that happens exactly like this and cum gets into her eyes but she keeps smiling. What an unexpected bukkake for such a lady!