Jessy Jey #3 - Bukkake
Since Jessy Jey has already tried bukkake, she knows what to do and instantly starts with accepting cumshots. Guys unload their shots from both sides and Jessy emotionally reacts to almost each of them. She swallows her first 10 loads with some efforts but continues standing on her knees with mouth wide open..
Jessy Jey #3 - Bukkake - First Camera
Each further cumshot is getting harder for Jessy and she points the guys to her mouth so they wouldn't miss but the sperm flows out and her chin gets white too. She obediently swallows, holding her cum bowl ready. She performs several cycles of collecting and swallowing and feels like she's totally enough..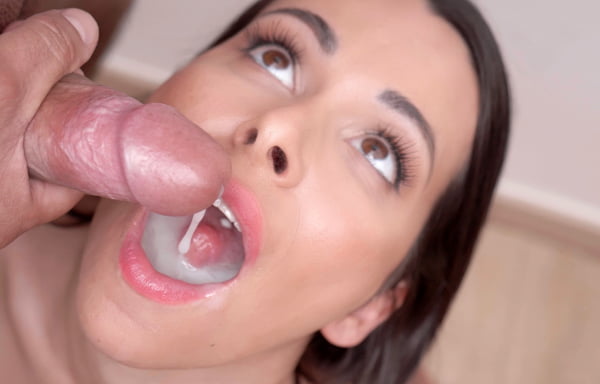 Jessy Jey #3 - Bukkake - Second Camera
After gulping over 40 loads, Jessy puts her beautiful face under the cum streams and feels happy about that but not for too long until cum gets into her eyes.. Despite that, she tries to keep her eyes open and finishes off her cum bowl. A true genuine smile appears on her face and Jessy feels free to go:)
Sherezade Lapiedra #1 - Interview before Bukkake
Amazing - it turns out that our beautiful slim babe Sherezade is literally a runaway bride! She took her wedding dress from her supposed wedding and decided to try other men's cum instead of her regular partner. She gets warmed up with a couple of cumshots in a martini glass and find herself ready for bukkake!
Sherezade Lapiedra #1 - Bukkake - Behind The Scenes
Sherezade continues to warm up and gulps a couple more cumshots from a martini glass, then slowly undresses and seductively poses for a photo session. She has some fun with Marina Gold while being cum-glazed and she tries to answer a few question with cum on her face.. She feels really good and wants more..
Sherezade Lapiedra #1 - Bukkake - Behind The Scenes
After the bukkake she goes to the shower and we can see her tight slim body closely under the water streams. Being clean and refreshed, she accepts three more cumshots into her martini glass and gulps them, getting an unexpected taste of cum and showing her real emotions. Want her to return? Vote for her ;)
Sherezade Lapiedra #1 - Bukkake
It's a truly amazing bukkake right from the start - stunning Sherezade Lapiedra hasn't experienced not only bukkake in her life. She hasn't even tried swallowing more than one cumshot at a time! And this amazing porn starlet is wearing a wedding dress and sucking dicks, shyly but seductively!
Sherezade Lapiedra #1 - Bukkake - First Camera
Since she's so newbie, a more experienced girl is joining the party to help Sherezade with all the cum prepared for her. Marina Gold knows how to treat the dicks and so the girls extract cum quite fast. They use a martini glass to be filled with jizz and Sherezade tries her first cum cocktail with 19 loads..
Sherezade Lapiedra #1 - Bukkake - Second Camera
She does it with some effort but wants more. The girls fill one more glass and Sherezade slowly drinks it, although even harder than the first one. Her beautiful face becomes flooded with hot cum and it goes into her eyes too.. She collects 20 more loads and gulps the second glass too and still feels good!
Silvia Dellai #1 - Interview before Bukkake
Silvia Dellai is not in her teen age but she clearly remembers how it is to swallow cum from her youth.. She claims she loves cum flavor and expects her bukkake to be easy for her, despite the 50 guys that have been saving the cum for her for several days. She instantly gets two loads and gulps them with a smile :)
Silvia Dellai #1 - Bukkake - Behind The Scenes
Behind the curtains we may see how Silvia gets even more beautiful after applying her makeup. She goes for the photo session and after some teasing and posing she gets caught in attention of four lads that are hanging around, awaiting for the bukkake. With no hesitations, they feed Silvia with their cum loads..
Silvia Dellai #1 - Bukkake - Behind The Scenes
Silvia seems to be prepared for her first bukkake and can finish her photo session. We can also see her trying to express her emotions during a short cum-glazed interview. Later on, when Silvia gets fresh and clean and ready to go, she catches a couple of goodbye cumshots, swallows them clean and flies away :)
Silvia Dellai #1 - Bukkake
Look who's there! Famous Silvia Dellai comes to try her first in the life bukkake! She's a bit nervous before the start but when the cocks around come into her attention, she knows what to do next :) Eventually Silvia gets on her knees and opens her mouth to accept the incoming jizz spurts..
Silvia Dellai #1 - Bukkake - First Camera
Silvia looks surprised and amazed by the action and at first just tries to keep her mouth open. She manages to handle a big mouthful of 15 loads and gulps it with efforts.. Some guys come behind Silvia and drop their loads onto her forehead so she gets acquainted to the sperm on her face..
Silvia Dellai #1 - Bukkake - Second Camera
Silvia seems having a tough time swallowing so she has a cum bowl ready to catch the residual jizz. The guys come around her and ejaculate onto her face, covering her green eyes with sperm. Cum-glazed Silvia accepts a dozen more loads for her mouth, makes the final sip from the bowl and finishes her first bukkake!