Vicky Love #3 - Bukkake - First Camera
We all love Vicky and she gives her love back. This time she wants to pass through another bukkake solely by herself without any help from Ana. She starts with gentle blowjobs for the guys around her and the sticky dense cum accumulates in her mouth. Vicky manages to collect 19 loads before first gulp.
Vicky Love #3 - Bukkake - Second Camera
After swallowing the first mouthful portion she exposes her beautiful eyes under the cum streams. The dense jets of sperm descend on her face and while being cum-glazed she swallows another 18 loads that are collected in her mouth. By this moment Vicky has some doubts if she can continue and calls for Ana.
Vicky Love #3 - Bukkake
Despite being overwhelmed by swallowing a few dozen cumshots, being facialized, sucking tens of dicks, Vicky proves herself that she's a real pro and overcomes herself. She bravely takes the cum bowl and after just a small hesitation drinks it fully, totaling 58 loads for this bukkake. Vicky, we love you!
Daniela Ray #1 - Bukkake - First Camera
Welcome a new Ukrainian girl who looks to be a kinky one with a dragon tattoo and red hair. Daniela Ray, a skinny babe with perky small tits that loves to suck dicks, is still a newbie for bukkake. At first she performs gentle energetic blowjob which transforms into mouthfucking and goes for cum collecting.
Daniela Ray #1 - Bukkake - Second Camera
Daniela holds her first mouthfuls with a calmness that contrasts to her prior excitement and even smiles when she has to swallow. She licks herself and puts all cum into her mouth from the face and then guys flood her eyes, trying to break through stoic naked beauty. Daniela drinks it all and laughs at them!
Daniela Ray #1 - Bukkake - Behind The Scenes
A drastic contrast between her Nordic calmness and a vivid smile is seen even clearer in the BTS footage. Daniela poses for photos like a lady and then swallows a sudden cumshot obediently with no question. When she decides to walk away, another load is gulped by her with no doubt. What a surprise girl!
Vicky Love #2 - Gloryhole
The long-awaited Vicky Love's first gloryhole that she tries in her life. She is a bit nervous but feels ready for swallowing some sperm in a gloryhole box. Dressed in a pink cocktail dress, she sucks the dicks very carefully and gently. Guys don't make them wait for too long and erupt into her beautiful mouth..
Vicky Love #2 - Gloryhole
Vicky fängt jeden Cumshot ein und zeigt ihn schön in ihrem Mund, während sie darauf wartet, dass sich die Jungs auf das Abspritzen vorbereiten. Sie hat es nicht eilig und nimmt jeden Schwanz einzeln. Sie ist begeistert von dieser Aktion und schluckt 25 riesige Spermaladungen mit einem Lächeln im Gesicht. Aber ist es genug für sie?
Vicky Love #2 - Gloryhole - Behind The Scenes
There's a nice footage behind the main scenes where you can see Vicky's changing clothes, posing for a photo shooting, getting a sudden surprise cumshot, a few short interviews where she shares her thoughts about cum swallowing and a small pervy shower scene :)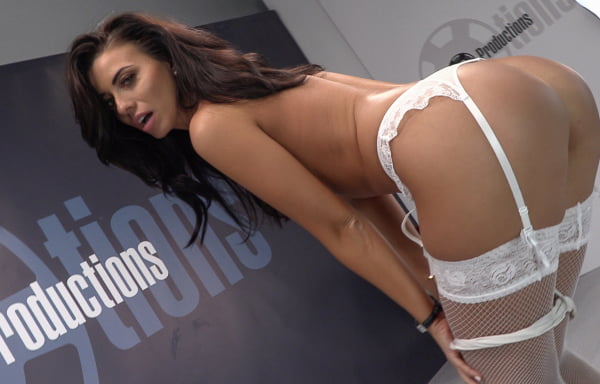 Lola Taylor #2 - Bukkake - First Camera
This time Lola Taylor starts the bukkake with Roxy Lips but stays on her own against a crowd of guys who are set to spurt their cum jets into her seductive mouth. She gags herself with dicks up to the roots and looks like she loves it. She swallows her first dozen of loads with a smile on her face..
Lola Taylor #2 - Bukkake - Second Camera
Guys are so impatient that their loads lay down on every square inch of Lola's face so she gets surprised more than expected. Being cum-glazed, she still swallows a few dozen loads more. Having collected everything into her bowl and with the sperm on her face, in her eyes and on her hair, she gulps it all.
Lola Taylor #2 - Bukkake - Behind The Scenes
Lola looks to be a crazy girl who loves to have fun and fool around and you can see it all in the Behind The Scenes footage. She poses in a photoshoot with Roxy Lips and when a guy comes in and eagerly wants to unload his cumshot, she masterfully ruins it, letting him cum on her chest. Such a foxie!
Lola Taylor #1 - Gloryhole
Welcome Lola Taylor, a blonde Russian babe who already has some porn experience but never tried neither bukkake nor gloryhole. Today she starts with an intensive deepthroat blowjob with gagging herself with dicks from both sides. The first cumshots surprise her a lot but she eagerly swallows them all..
Lola Taylor #1 - Gloryhole
After receiving sudden cum-in-eye loads, Lola gets acquainted to the rhythm of the popping dicks and feels much more comfortable yet surprised by each load. She smiles while being cum-glazed and directs the sperm into her mouth by herself, gulping eventually 34 cumshots. And then one big one more ;)
Lola Taylor #1 - Interview before bukkake
Yes, Lola is not a newbie but she's got not enough cum experience in her life as we can provide for her. She doesn't always swallow cum from her boyfriends, however she admits she likes it. Let's see how she gulps 4 prepared loads in a bottle, an old question now put in practice. Tastes differ, yeah :)