Vale Gmz #1 - Bukkake
We have a new beautiful babe today - she's from Colombia and she has a very interesting name - Vale Gmz :) Hopefully you'll know more about her in the future and meanwhile she wants to try to swallow cum as she doesn't have a lot experience. Although she sucks dicks quite passionately and the guys erupt quickly.
Vale Gmz #1 - Bukkake - First Camera
She opens her mouth wide and helps herself to direct the jizz into her mouth. It's seen that she's a bit nervous from the start but slowly pulls in and carefully collects the incoming cum loads, although constantly scooping the jizz to her mouth. Her first gulp goes quite hard but she gets it masterfully.
Vale Gmz #1 - Bukkake - Second Camera
She gets more relaxed in the second half of the bukkake but still can't catch up the guys who approach her from both sides and shoot their loads simultaneously. She still keeps her mouth open but her face becomes messy and she can't do anything about that! There were just a few big mouthfuls but that was more than enough for Vale!
Ohana Petite #8 - Bukkake - Behind The Scenes
We all know that Ohana Petite has something special in her look that allures a lot of people. With time she only gets even more beautiful and more feminine. Started her porn career as an 18 y.l. teenager, she slowly matures and her body ripens, forming mad-driving shapes which she doesn't mind to expose in public.
Ohana Petite #8 - Bukkake - Behind The Scenes
When she poses for her photo session and gets undressed, she attracts the attention of a couple guys who cannot stand with her shiny body and approach her with their dicks atilt. She obediently kneels down, looking in their eyes with a squint, and gently accepts their loads one by one, gulping with a smile.
Ohana Petite #8 - Bukkake - Behind The Scenes
As if nothing happened, she continues her photo session. After the bukkake she answers a few questions with cum on her face and then goes to the shower, where she again shows us her firm body, knowing she's been peeked. Eventually, Ohana cannot skip the goodbye load and accepts it with humility. Will she ever return?
Ohana Petite #8 - Bukkake
Our beautiful cum princess Ohana Petite can't stop her cum swallowing venture and get enough with 21 loads she swallowed just a day before, so she's up to stretch her limits today and overcome herself as if she tries bukkake for the first time. She instantly throws herself to the incoming dicks and gets quickly surrounded by them.
Ohana Petite #8 - Bukkake - First Camera
The guys approach her from both sides, pushing their cocks to her mouth as Ohana sucks delightfully. When the first cumshots land to her mouth, she wrinkles but holds the cum inside. Her mouth gets filled up to the brim quite fast as the loads are huge. She swallows with no hesitation today.
Ohana Petite #8 - Bukkake - Second Camera
Ohana smiles and collects big mouthfuls, just closing her eyes for a second when the cum volume gets too big. She helps herself to direct all cum to her mouth and gulps on command. With all her face messed with cum, she takes her jizz bowl and drinks all the residuals, for a total of 55 loads she drank today!
Ohana Petite #7 - Interview before Bukkake
Ohana Petite has a great joyful mood today. She's really happy to return and see the old friends and maybe not if to set a new record, but to add more jizz loads to her swallow counter :) She playfully takes a small bottle of cum and effortlessly drinks it fully with a charming smile. She does want it started now..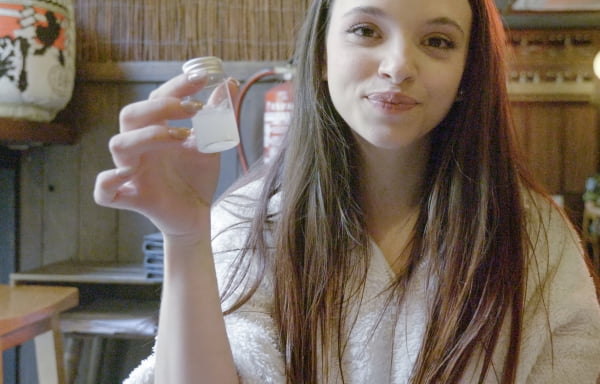 Ohana Petite #7 - Bukkake - Behind The Scenes
That's one of the rarest moment when we can see a girl coming in and getting a welcome load right on entering the studio and Ohana Petite is that girl! She takes it like a champ and goes preparing for the event. After the makeup she looks like a sexy kitten and goes to the stage in a short skirt, seducing the guys around..
Ohana Petite #7 - Bukkake - Behind The Scenes
After the bukkake she manages to answer a few questions, basically confirming that she still loves cum and then goes showering. She plays with her body and water streams in the shower and even reaches an orgasm there which looks really beautiful! What a happy ending for Ohana this time :)
Ohana Petite #7 - Bukkake
We are yet to know why Ohana Petite has decided to return back for more jizz swallowing, but here she is, even more beautiful and petite than earlier, being ready for the incoming dicks right at once. She instantly throws herself upon the guys' dicks and starts passionately sucking them. The guys certainly like that!
Ohana Petite #7 - Bukkake - First Camera
She kneels down and looks obediently to the camera, looking as a clean naive creature that has never tried jizz before but we all know her nature ;) Ohana keeps her mouth open and holds the cumshots in it, as soon as it's getting filled with really huge loads today. Her face becomes messy quite fast..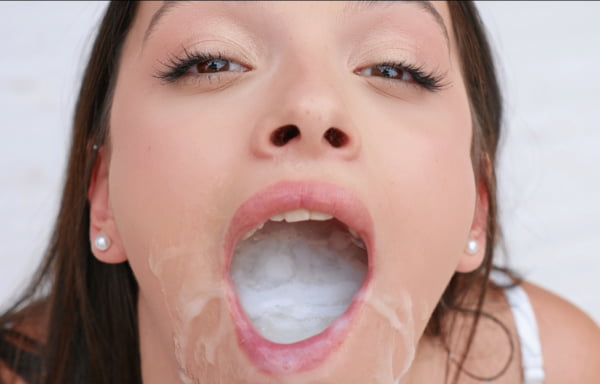 Ohana Petite #7 - Bukkake - Second Camera
Amazing, but even with such a not inflated number of guys, Ohana barely holds her mouth full, putting her will at hand and gulping with efforts. The guys compete with each other and unload their jizz loads from both sides and Ohana looks to be overwhelmed quite quickly, although not loosing a single drop and swallowing all!