Cherry Kiss #2 - Bukkake
This time Cherry Kiss wants it big. She instantly throws herself into intense dicksucking which can't get long enough as the guys feel so horny about Cherry so they start cumming right in a few minutes. Cherry swallows with pleasure and the guys continue spurting their loads on her face and into the open eyes..
Cherry Kiss #2 - Bukkake - First Camera
The Slavic cutie gets fully covered in sperm - enormously thick cum spurts flow across her cheeks and chin while she tries to see something with her eyes flooded with jizz also. She manages to accept 58 cum loads and drinks all the sperm from her bowl. The guys just can't stop that and continue..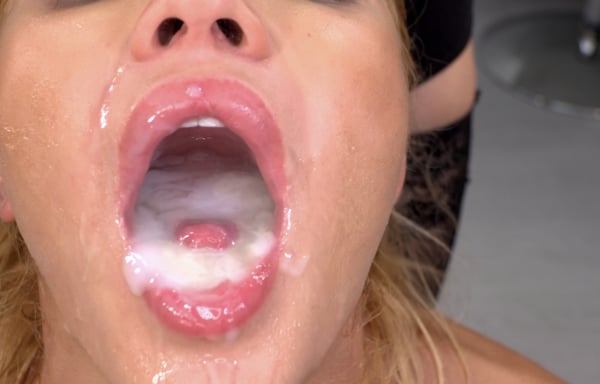 Cherry Kiss #2 - Bukkake - Second Camera
Cherry Kiss receives a dozen loads more after the big gulp and shows a nice mouthful so we can see how she beautifully does two more gulps. She gives a nice interview after her bukkake and we have Behind The Action scenes too where she prefers to swallow another cumshot instead of water. She just loves cum!
Freya Dee #1 - Gangbang
There were no gangbangs for quite a while on PremiumBukkake, it's time to show some :) Freya Dee, a slim Slovak babe comes for her portion of cum and fuck today. She starts with a nice teasing dance and then quickly moves to giving head. She merely wants to taste each dick in a room and she does it well!
Freya Dee #1 - Gangbang
Some guys are so horny so they gag Freya with their dicks but she doesn't have any problems with that and she goes ahead to the actual gangbang. Guys fuck her in various positions and she tries to suck dicks while being fucked as well. Eventually the guys cum on her face and the sperm gets into her eyes..
Freya Dee #1 - Gangbang
With cum on her face she's being fucked and tries to reach an orgasm while the guys shoot their cums loads into her mouth, filling it fully so she can gulp. She experiences some difficulties in swallowing but continue. Eventually she gets 27 cumshots totally. Let's see how she handles that :)
Nikki Hill #1 - Bukkake - First Camera
One of the bukkakes you dreamed about is probably here this Halloween. Nikki Hill, 18 y.o. girl from Ukraine, starts her bukkake career with a diligent blowjob session and welcomes each dick. The guys reply with strong cum spurts into her mouth, but some of them fly on her face, making it just more beautiful..
Nikki Hill #1 - Bukkake - Second Camera
Nikki swallows several dozens of mouthful loads and we see her hesitating before each gulp, although does it, not loosing any drop. When guys unload cum in her eyes with sudden jets, Nikki saves a lot of cum in her bowl. Drinking a dozen loads more from the bowl, she meets even more surprise loads to swallow..
Nikki Hill #1 - Bukkake - Behind The Scenes
This beautiful girl has so much energy and youth concluded in her fresh and tight body that we can't stop being amazed by her. She's exposed in her intimate life for us and we see her getting a shower and changing dresses. She obediently accepts a sudden load during a photoshooting and one more for goodbye too!
Vinna Reed #2 - Gloryhole
Vinna Reed, a slim Czech girl, has never tried gloryhole in her life and gets trained a bit before she starts sucking cocks that pop out from both sides for her. She reacts instantly and gives head passionately, making guys' dicks harder. In a few moments she undresses and feels ready to accept cum..
Vinna Reed #2 - Gloryhole
Guys erupt quickly and Vinna tries to swallow each load, jerking the dicks a bit to help direct cum in her mouth. She shows each load to us and swallows. Sometimes she feels the taste of sperm too sharp and can't hold her emotions..
Vinna Reed #2 - Gloryhole
Vinna feels good about swallowing and fingers herself while guys continue spurting the cumshots to her mouth. With cum on her face, she swallows 38 loads in total and looks to swallow more. Next time, Vinna, come back :)
Henna Ssy #1 - Bukkake - First Camera
Have you heard of Henna Ssy? A young new starlet from Russia came for evaluating her dick sucking and cum swallowing skills. She arouses the guys for several minutes with her mouth and the very first big load comes right into her eyes. Her first swallow of 9 loads goes smoothly but the action intensifies.
Henna Ssy #1 - Bukkake - Second Camera
Henna Ssy is one of those ladies who can swallow a lot while being in an ecstatic suborgasmic mindset. Next gulp she does - she does it looking into the camera and rolling her eyes, but then swallows a few dozen loads more and the rest is poured into her mouth for final swallowing, totaling 45 cumshots. Not bad!
Henna Ssy #1 - Bukkake - Behind The Scenes
Behind the main scene we have a nice photo shooting for Henna where she teasingly undresses and a swallows a nice sudden cumshot during an interview - we couldn't let her go without that. Henna Ssy is a nice charming girl and might want to return to us again :) Enjoy her vids now!