Vicky Love #3 - Gloryhole
Gorgeous Hungarian babe Vicky Love continues her very intensive gloryhole. After swallowing her first 25 loads, she feels hot and horny and removes her clothes. She continues accepting loads one by one and shows each of them to the camera..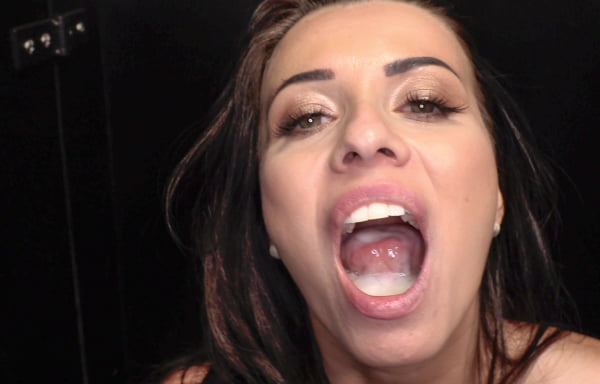 Vicky Love #3 - Gloryhole
The taste of the loads is always different for Vicky so she provides various emotions each time she gulps. When guys don't cum at once, she helps them by jerking their cocks and extracting the sperm by her own will..
Vicky Love #3 - Gloryhole
Even after swallowing more than 70 loads this time, Vicky doesn't feel too exhausted of the amount of cum swallowed and she masterfully finishes all those tens of cocks and gulps 77 loads eventually. Vicky will always stay in our hearts as one of the best cum-swallowers in PB history :)
Roxy Lips #3 - Bukkake - First Camera
Roxy Lips has performed not even two bukkakes but three and this is the last one filmed. Starting with blowjobs, she doesn't mind when guys mouthfuck her and she seems to have pleasure from this. Roxy is already acquainted to bukkake, so she obediently puts her head towards the incoming cum spurts...
Roxy Lips #3 - Bukkake - Second Camera
From the first loads guys do a cum madness for Roxy and shoot cumshots everywhere to her face and mouth so in a few minutes she gets cum-glazed but holds the mouthfuls and swallows them in series of around ten. So far, Roxy reaches the magical hundred limit and adds 105 loads to her swallow counter :)
Roxy Lips #3 - Bukkake - Behind The Scenes
By the moment of leaving, Roxy feels quite enough of sperm for her, but we can't let her go without a good-bye cumshot and in her special case - even two :) The guys have prepared themselves and Roxy gets two nice cumshots and almost fill her mouth full so she barely can handle it all. We'll miss her, yeah!
Kitana Lure #1 - Bukkake - First Camera
Another long-legged busty babe from Russia - Kitana Lure comes to Paris for her first in the life bukkake. She appears to explore her tolerance to sperm today and some surprises happen along the way. She starts with beautiful blowjobs for the guys but then cum gets in her mouth and the show begins..
Kitana Lure #1 - Bukkake - Second Camera
Kitana expresses amazingly beautiful facial emotions and obediently accepts all the cumshots that cum into her mouth. She swallows cum loads in packs and directs cum into the bowl herself. She's being flooded with facial cumshots eventually and being fully cum-glazed, swallows her cum bowl up to the last drop!
Kitana Lure #1 - Interview Before Bukkake
Kitana lives in Paris for two years and feels to be a European. That's nice as she tries to be open minded and so on, she tells about her life style a bit and some words about sperm too. And she's got a surprise cumshot as well of course! She uses a cum bowl for her first giant load and finishes it like a champ!
Kate Rich #1 - Bukkake - Part 2 - First Camera
Kate Rich continues her leap of faith to re-establish a new record of cum-swallowing. After accepting 104 loads, she continues receiving cumshots into her mouth, while being already feeling enough. Another dozen of loads is swallowed and the guys target their shots onto Kate's beautiful face and into her eyes..
Kate Rich #1 - Bukkake - Part 2 - Second Camera
What seemed to be facial cum earlier, now is just a piece of cake, as Kate is covered with thick dense flows of sticky cum which flows into her eyes and along her lips, it's purely amazing! In this engrossing state, Kate gulps her last cum bowl for today, totaling 133 of 141 loads accepted. A new record!
Kate Rich #1 - Bukkake - Behind The Scenes
The spring is coming and Kate Rich becomes the first swallow that tries a photo session in nature :) She feels great and enjoys the weather. Afterwards, she proceeds to the main stage and gets her first sudden cumshot before the main show starts. She gulps without doubt and continues the photo session with cum on her face. Brilliant!
Kate Rich #1 - Bukkake - First Camera
Welcome, Kate Rich, a Russian pornstar babe who came to us for breaking the records with her inner power and talent. She starts off with an energetic blowjob and then wants to be fucked. They can't resist to a lady's wish and pound her tight pussy while cumming to her mouth. She gulps for the first time..
Kate Rich #1 - Bukkake - Second Camera
Kate takes a bowl and starts collecting cum further. Guys are so horny that spurt cumshots non-stop, so Kate barely manages to swallow giant mouthfuls and after 79th load feels she's full of cum but still wants more. Being facialized, she swallows 96 loads total and we guess.. Is she able to continue?..
Kate Rich #1 - Interview Before Bukkake
Before the main action, she gives a short interview where she tells a bit about herself and how she loves sperm and so on but then she's offered a bottle of cum with 4 loads.. She provides a warm welcome reaction to the first cum loads and it's a great contrast with the upcoming bukkake hey :)