Maria Teen #2 - Bukkake
Today Maria gets back for her second bukkake! She is even more beautiful today and her charming smile warms up the guys who prepare their dicks to stuff into her mouth. Maria sucks and jerks in the same time, getting ready for cum swallowing and the first huge loads fill her mouth quite intensively...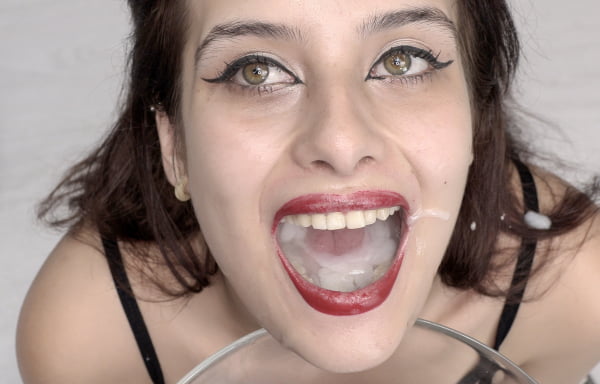 Maria Teen #2 - Bukkake - First Camera
She swallows in small portions and feels good about sperm. Maria cheers and smiles to the guys so they get aroused and shoot even more cum sprouts onto her face, missing the mouth sometimes but making her look even nicer with thick white jets on her cheeks...
Maria Teen #2 - Bukkake - Second Camera
She obediently keeps her mouth open, showing all the sperm collected there and eventually swallows 30 loads, finishing up her cum bowl in the end, licking her fingers and helping sperm to come into her mouth. Maria is truly a new pearl in our collection and she proves this again! See you, Maria Teen :)
Damaris #1 - Bukkake
Look at this Spanish lady Damaris, a lovely MILF that is into kinky stuff but haven't tried bukkake yet! So far, this is her first cum swallowing experience and she starts with double blowjobs that quickly turn into a real blowbang! When five guys surround her at once, her face is warmed with a wide smile!
Damaris #1 - Bukkake - First Camera
When the cum starts to spurt into her wide open mouth, she eagerly catches the loads and holds them well, collecting her mouth full of sperm and helping to direct the loads inside. She swallows her first several dozen loads without hesitation, waiting for more..
Damaris #1 - Bukkake - Second Camera
When the loads counter hits 34, the guys decide to flood her face with the thick cumshots that would hold well and complement her smile - that happens exactly like this and cum gets into her eyes but she keeps smiling. What an unexpected bukkake for such a lady!
Maria Teen #1 - Bukkake
We always are glad to see some young talents, especially in times when they are quite rare to find :) So far, this one is called Maria Teen, a Spanish babe that wants to try some sperm in massive amounts for the first time - and she can do it today!
Maria Teen #1 - Bukkake - First Camera
Having done quite an intensive blowjob to almost every guy that is around her on the stage today, Maria looks to the camera and obediently opens her beautiful mouth wide to accept the cum. She helps herself to direct all the loads into her mouth and handles it well..
Maria Teen #1 - Bukkake - Second Camera
She holds the bowl to save all the tiny drops that rarely miss her mouth this time and swallows her first saved 8 loads. When all guys come into her mouth, she adds the saved cum from the bowl and gulps everything, swallowing eventually all 18 loads. Not a lot, but truly sincere!
Kimmy #1 - Bukkake - First Camera
We have not seen such beautiful exotic babes for quite some time on PB, so Kimmy is warmly welcome to try bukkake for the first time with us :) She starts with double sided blowjobs to warm up the guys and does it so nicely with a special sucking technique. She barely holds the first dozen of loads..
Kimmy #1 - Bukkake - Second Camera
Cum swallowing is a great challenge for Kimmy but she bravely continues and gets all her face in a messy sticky jizz and decides to drink the cum that's left in the cum bowl. She handles it in a couple of gulps and accepts a dozen loads more, gulping each couple of loads. So far, great first experience!
Kimmy #1 - Bukkake - Behind The Scenes
Kimmy has a wonderful body and we can see it in nice details when she poses for a photoshooting and shows her pink. A sudden cumshot shakes her a bit but she obediently swallows it. She is also offered to drink cum in a bottle which was saved by her fan - and she does it! A shy shower scene presents too :)
Sonia #1 - Gangbang
Beautiful amateur Spanish babe Sonia wants to deepen her immersion into bukkake experience and continues her cum swallowing venture with a gangbang! Starting with a gentle blowjob, she slowly comes to being fucked by a bunch of guys from both sides! And then they start shooting their cumshots into her mouth!
Sonia #1 - Gangbang
She holds her mouth wide open, accepting thick loads from both sides and gets amazes with vibrant emotions that she catches every second, showing us her beautiful eyes and incredible face expressions when sperm comes deep enough! Sonia is amazing, even having accepted just 21 loads!
Sonia #1 - Behind The Scenes
Sonia has some fun behind the scenes and takes a sudden swallow. She shows her real attitude to sperm every single moment she touches it. Vivid emotions - that's what she provides most. Oh, Sonia.. :)