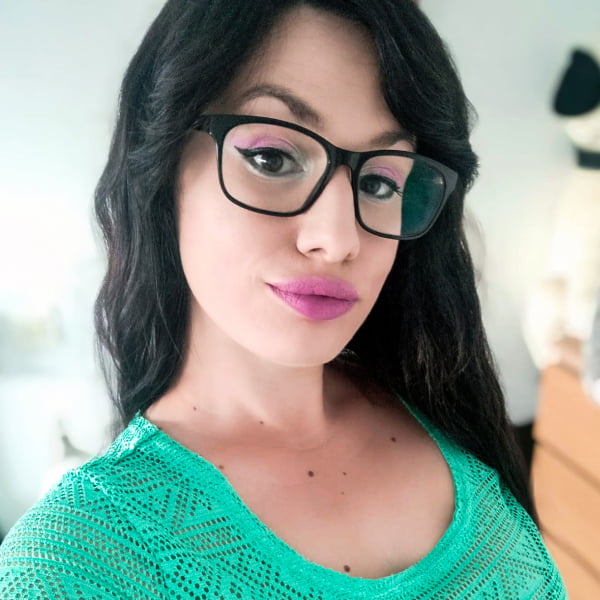 Noe White #1 - Bukkake - First Camera
You never knew about this young hot Spanish amateur who looks incredibly romantic in this casual office style! She gently enters the scene with a shy smile and caresses the guys dicks slowly but keeping her mouth eagerly open.. The guys come one by one and Noe swallows in small portions..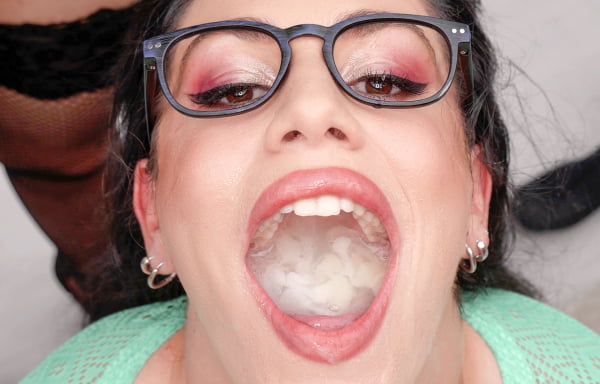 Noe White #1 - Bukkake - Second Camera
Beautiful Noe smiles after the gulp from her bowl with the cum and continues receiving the loads from the guys. She manages to handle several decent big mouthfuls more, swallowing all cum till the latest drop from her bowl, licking her fingers after that! Are we going to see you again, miss White? :)
Noe White #1 - Bukkake - Behind The Scenes
This naive Spanish amateur seems to only look like a shy girl and, being an avid cum lover, she swallows sudden loads with the signs of pleasure. She handles a couple of cumshots during a photosession and drinks a bottle of cum without hesitation too! Whoa, Noe!
Linda Black #1 - Bukkake - First Camera
What do we know about this hot latina chick from Colombian except she's a bit acquainted with cum swallowing? Amazing Linda Black throws herself into the bukkake scene with a massive cumshot action today, not fixing on the blowjobs, she starts right with huge prepared cum loads into her eagerly open mouth!
Linda Black #1 - Bukkake - Second Camera
Insane amount of cum is to be gulped by Linda and she accepts it from both sides, collecting decent mouthfuls, sipping from her cum bowl - and doing this several times! On around 90th load she puts her face under the cum shower and while being facialized, gulps everything from the bowl! And that's not all!
Linda Black #1 - Bukkake - Behind The Scenes
Linda is an insatiable cum loving chick which still gets overwhelmed by the sperm volume she has to accept. Behind the main action, she doesn't mind collecting a couple of loads during a photo session and another couple of sudden loads right before she's going to leave the studio.. Has she to return? :)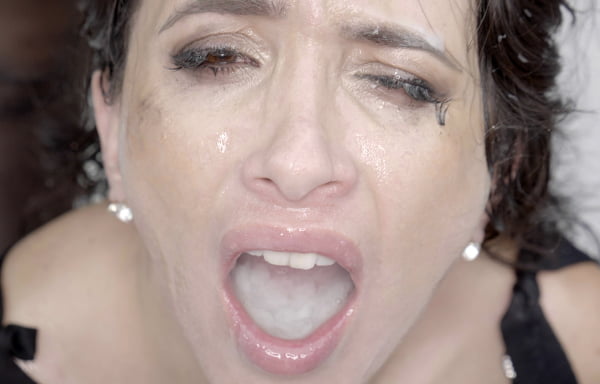 Isabel Dark #1 - Bukkake - First Camera
Another busty brunette from Czechia - Isabel Dark - bravely enters the bukkake scene, starting with energetic blowjobs. She sucks without the help of her hands, so the guys start cumming in a few minutes, surprising Isabel quite a lot! She barely holds the first mouthfuls but the guys shoot their loads..
Isabel Dark #1 - Bukkake - Second Camera
After swallowing a couple dozens of cumshots, Isabel gets her tinted eyes flooded with sperm, still trying to keep them open. Being a bit shocked by this, she still gets her mouth filled full a couple of times and gulps everything from the bowl too! She's fine despite it's tough for her. But she did it!
Isabel Dark #1 - Bukkake - Behind The Scenes
Behind the curtains we can see how Isabel eagerly accepts sudden loads during a photo session. We can also see how she is prepared for bukkake and how she feels after the main action. A bottle of salty cum for her as a finish gulp - is an easy call for her! A nice shower scene is also present :)
Tiny Tina #2 - Bukkake - First Camera
Slim Czech brunette Tina Tiny returns for her second bukkake and wants to stretch her inner cum limit. From the start she gets a bit mouthfucked and then the guys unload their saved cumshots. At first, Tina swallows each one but then decides to save a big mouthful.
Tiny Tina #2 - Bukkake - Second Camera
She does it well, collecting several dozens of cumshots in a row and gulping each one carefully and thoroughly but the lads spurt the loads into her beautiful eyes, making Tina barely see the bowl in front of her.. Being thickly facialized, Tina makes the final gulp from the bowl and breaks her own record!
Tiny Tina #2 - Bukkake - Behind The Scenes
Behind The Scenes footage for Tina is quite rich and extended - we can watch her swallowing welcome loads, sudden photo shooting loads, taking a shower and a couple of good-bye loads too! And of course, a sufficiently emotional interview with a bottle of cum being gulped too!
Nicole Love #3 - Bukkake - First Camera
Look who's back - stunning slim babe from Czechia - Nicole Love! She returns for more cum swallowing experience in new conditions and receives it in full amount! Her plumpy lips grasp the throbbing dicks to extract cum with pleasure and it goes well - the guys cum quite fast. Nicole swallows everything..
Nicole Love #3 - Bukkake - Second Camera
After dropping some 20 loads to her naively open mouth, the guys start unloading their sperm into gorgeous Nicole's eyes, making her wrinkle a bit but keeping her eyes open. With a smile on her face and cum in her eyes, she accepts a few dozen loads more and swallows everything! She's such a nice girl!
Nicole Love #3 - Bukkake - Behind The Scenes
Nicole Love almost has not changed since her last visit to us on Christmas Eve of 2017 - she's still young and beautiful! And guys can't miss any chance to put their dicks into her alluring mouth and drop a random load or two. Nicole wants to expand her cum taste palette and drinks a whole bottle of cum too!