Maria Teen #5 - Bukkake
Welcome back Maria Teen, bukkake veteran who is just 20 :) She always wanted to swallow more but was fed only with just several dozen loads. Now she's ready for her hundred and with no delay she throws herself into blowjob action. Guys don't make them wait for too long and erupt the sperm for her..
Maria Teen #5 - Bukkake - First Camera
Maria accepts and gulps her first mouthful pack easily and just smiles, awaiting for more. She openly looks into the camera while the guys unload the cumshots, making her face messy with cum but she carefully puts the jizz back into her mouth and innocently smiles. She doesn't get tired even after 80 loads!
Maria Teen #5 - Bukkake - Second Camera
Being spotted in cum all over, she licks her fingers in anticipation of more cum inflow. The guys have been well prepared today and splash the jizz loads to her face now, while Maria tries to avoid cum getting to her eyes. Despite that, with cum in eyes, she drinks her cum bowl and sets her own cum gulping record!
Marina Gold #5 - Interview before Bukkake
Marina Gold purely emits the energy when speaks about cum and how she loves swallowing it. She's the true gem and she feels it from inside. It could be her secret but it's felt through the screen. Every time Marina swallows cum, she feels a bit happier :) She smiles in anticipation of her new bukkake..
Marina Gold #5 - Bukkake - Behind The Scenes
Marina is a young, fresh and not yet spoiled girl. Well, just a bit, maybe. By her age she swallowed a few hundred loads already but she simply can't miss a chance to do that again and again! When she poses teasingly for the photo session, she eagerly accepts a sudden load from a guy nearby.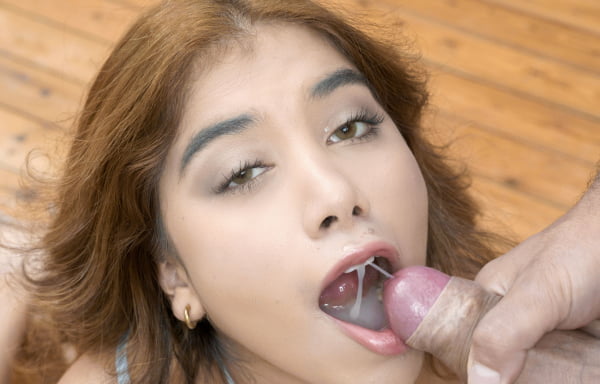 Marina Gold #5 - Bukkake - Behind The Scenes
Marina gets totally naked and enjoys her body and the guys around watching her.. After the bukkake she answers a few questions and goes to the shower where she pleases herself and looks to have a quick orgasm. It's amazing to see how Marina drives the guys crazy! Do you think she should return?
Marina Gold #5 - Bukkake
It's a pleasure to see girls having fun and this time Marina Gold wins her turn to become the main bukkake hero! With a joyful anticipation, she kneels down and quickly gets ready for incoming cumshots. She seems to be glad to every new dick she sees! Marina holds almost 20 loads and gulps at once..
Marina Gold #5 - Bukkake - First Camera
The guys aim to her mouth but some sudden spurts get into her eyes and nostrils. Marina ostentatiously wrinkles but still smiles and puts her beautiful face under dicks popping out from both sides. She drops short glances to the guys when they cum and tries not to gulp reflexively..
Marina Gold #5 - Bukkake - Second Camera
Safira is the cum-scooper for Marina today and she helps her to swallow all cum till the last drop. She pours the cum glass into Marina's mouth twice so Marina has no other chance but to swallow her well-prepared half hundred loads. She feels happy about that and thus can be called a real Cum Princess :)
Andrea #2 - Interview before Bukkake
Andrea remembers her first bukkake and how it was hard for her. She couldn't forecast her feelings neither before her first bukkake, nor before the second one. Yet happily anticipating, she tries two warmup loads and even manages to distinguish the taste and smell of the sperm! She gulps all, of course.
Andrea #2 - Bukkake - Behind The Scenes
It's always a pleasure to watch a girl's transformation when she applies her makeup. Andrea wants to be a sexy office lady today and puts on her pink jacket with a short skirt. She seems to grab the attention of the guys around when posing for photos..
Andrea #2 - Bukkake - Behind The Scenes
Andrea notices one of the guys, kneels down and accepts his cumshot with no hesitation. She shows the big load in her mouth on camera and swallows on command. She's thankful her second bukkake is over but she's ready for more in the future. :)
Andrea #2 - Bukkake
Andrea returns for her second bukkake dressed in a pink jacket pretending to be an elegant office woman. Without a slightest hesitation, she pleases the guys with a soft but energetic blowjob and right when they start cumming, she turns to be ready for their cum. The first loads are accepted easily..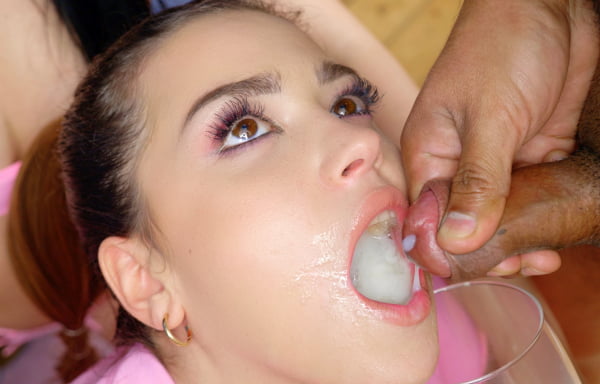 Andrea #2 - Bukkake - First Camera
She looks at the guys with a mix of anticipation and interest of what the cum taste would be. After the first gulp she licks her palm with jizz on it and drinks from her sperm glass till the last drop. But since there are more lads to cum, she has to get back to swallowing. And it becomes harder..
Andrea #2 - Bukkake - Second Camera
After swallowing just a couple dozen cumshots Andrea feels the mouthfuls are too big for her and she can barely hold the cum. The guys though continue to cum in her mouth and fill her sperm glass too, so in a while she has to drink it. With a lot of efforts she makes her final sip and feels enough for today.