Valeria Valois #1 - Interview before Bukkake
Valeria Valois seems to be an avid cum drinker but in reality she's just a newbie who's been filmed in only a few porn shoots! Thus more interesting her lust for cum which she might not know herself where it comes from. But that doesn't stop her from gulping a glass of cum and spice it up with a load directly from a dick :)
Valeria Valois #1 - Bukkake - Behind The Scenes
Valeria is just 22 but by her age she has grown quite big boobs she's proud of and doesn't mind exposing. Wearing a small black dress, she poses so seductively that a guy on the stage can't hold himself and suddenly cums to her mouth, being allured by her shaking tits - Valeria gulps easily..
Valeria Valois #1 - Bukkake - Behind The Scenes
With cum on her face, Valeria manages to do a short interview and it looks like she's really happy! The glossy face mask can't spoil her mood and she goes showering with a smile. Being washed up, she still can't get away without a real huge jizz load that gets smeared over all her face. Looks like she's a stayer, huh?
Valeria Valois #1 - Bukkake
Valeria Valois has come to us from quite far away but it looks like she's well prepared for her first bukkake and is in a mood for swallowing cum! After some gentle blowbang with seven guys simultaneously she feels horny and moans from the arousal. She kneels down and welcomes the first cumshots..
Valeria Valois #1 - Bukkake - First Camera
The cum loads are huge and thick, so just 7 spurts are enough to fill her tiny mouth full and Valeria swallows with pleasure. The jizz gets smeared over her face but she just moans and with the help of Marina collects everything in her mouth, swallowing in decent portions. She puts out her great tits too! :)
Valeria Valois #1 - Bukkake - Second Camera
Marina undresses Valeria and plays with her ass and boobs so after swallowing more than 50 loads Valeria gets aroused even more while guys cum on all over her face. She feels totally happy with her eyes filled with jizz and finishes her cum glass in one gulp! What a great unexpected start, Valeria!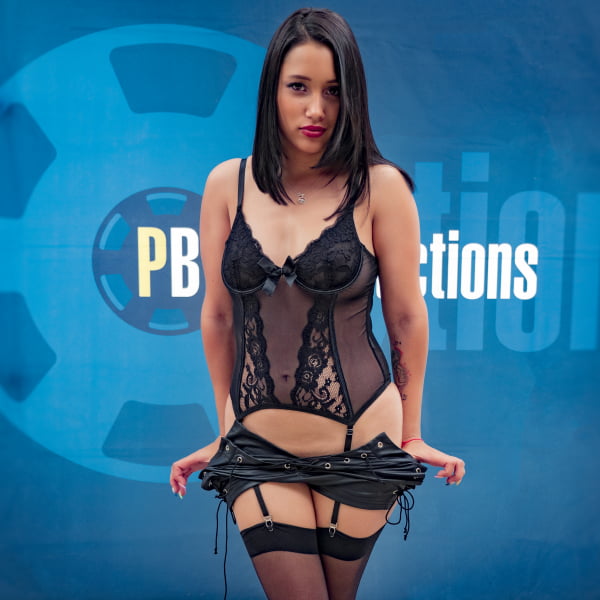 Lia Ponce #2 - Interview after Bukkake
Looks like Lia Ponce is having fun during her second bukkake! With cum on her face, holding her cum glass with a couple of loads, she collects two more, holding Yenifer on a chain.. She dominates over her and removes her clothes.. Lia states she likes everything, gets another couple of loads and finishes her drink.
Lia Ponce #2 - Bukkake - Behind The Scenes
Lia Ponce has come from far away, so she can tell a lot of stories to her makeup artist, but instead she just humbly awaits while becoming even more beautiful than she is by her nature.. Only to get on the stage to expose herself!
Lia Ponce #2 - Bukkake - Behind The Scenes
Lia poses for her photo shooting and sets up for her second, even more powerful bukkake where she's going to use even chains with her friend Yenifer. She feels sexy and attracts a watching guy who can't hold himself and drops a huge cum load to her mouth. She swallows with a tricky smile and goes on..