Sherry Vine #3 - Bukkake - First Camera
Our famous yet amateur Russian star Sherry Vine gets back to us for the third time. She's even more beautiful than before and wants a level-up. Apolonia Lapiedra helps her right from the start, pushing Sherry towards the dicks. Guys don't keep her waiting for the loads and cum huge, flooding Sherry's face..
Sherry Vine #3 - Bukkake - Second Camera
Sherry looks a bit embarrassed this time, even more nervous and her emotions expressed brighter and sharper. She rolls her eyes when feels overwhelmed with sperm in her mouth that she holds with shy patience. Every cumshot makes her wrinkle and each gulp of cum goes with effort. But 72 loads are swallowed!
Sherry Vine #3 - Behind The Scenes
Apolonia Lapiedra dominates over and finally seduces Sherry Vine to make her a lesbian slave, at least from time to time. Sherry looks to feel happy but to some extent. Overall, this is a nice BTS footage with a lovely shower scene where Sherry looks fantastically glamorous. And that's worth it indeed!
Ginebra Belucci #1 - Gloryhole
This time it won't be easy for Ginebra. She's already swallowed a lot of sperm in her first bukkake but today she's trying to overcome herself and suck it from the dicks that pop out of holes, ready to cum. Being just a newbie porn starlet, Ginebra finds it very hard for her to pass through this..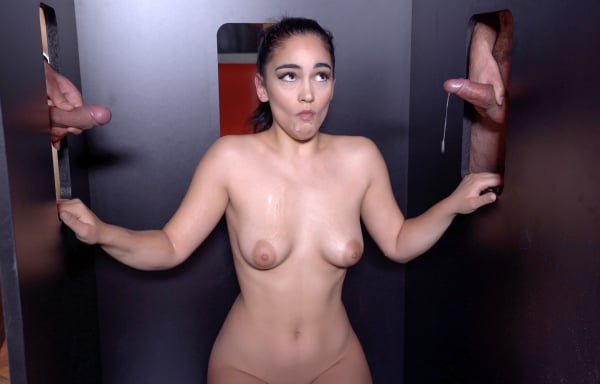 Ginebra Belucci #1 - Gloryhole
She balances between her great desire to do everything right and real emotions of not accepting cum from guys from the street. Every drop of sperm passes into her mouth with efforts and Ginebra struggles with every swallow. However, she finds her internal force to swallow 15 huge and thick cum loads..
Pink Charlotte #1 - Bukkake - First Camera
A true Spanish amateur - Pink Charlotte indeed wishes to swallow a lot of sperm but feels nervous about her first time. She closes her eyes and selflessly sucks all those dicks she finds in her mouth. She even tries a deepthroat blowjob and the first 14 cum loads are welcomed by her with enthusiasm. But then..
Pink Charlotte #1 - Bukkake - Second Camera
Charlotte feels very concentrated when swallowing the second pack of huge and thick mouthful shots, she continues with some efforts and we can clearly see her emotions when she barely holds another portion of cum in her mouth. By 37th load she reaches her own limit and the rest 8 messy loads go for her face..
Pink Charlotte #1 - Behind The Scenes
Walking out to the streets with the cum on her face, Charlotte proves she's a brave girl. People a bit wonder when see a facialized girl in the city but tend not to mention this, like it's a usual thing. Charlotte feels it's not the best day in her life but she could do that. She smiles in the end ;)